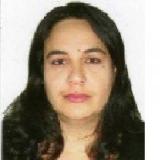 11-98332-9993
Ávila
Gerente de Loja in Efa Comercio, Imp. e Exp.de vestuário Eirele
São Paulo
,
São Paulo
,
Brazil
Current:
Efa Comercio, Imp. e Exp.de vestuário Eirele
Past:
NF Sondas e Perfurações Ltda
Education:
Administração/RH
Job Experience
Gerente de Loja
Efa Comercio, Imp. e Exp.de vestuário Eirele
January 2014 a Actually working here
Gerente de loja; atacado vestuário feminino e masculino, camisaria e acessórios.
Gerente Generalista
Gerente Administrativo
NF Sondas e Perfurações Ltda
June 2012 a March 2013
? Gerenciar a qualidade de execução e cumprimento dos prazos;
? Contratar fornecedores sob orientação de suprimentos;
? Elaborar cronograma aprová-lo, garantir o melhor resultado financeiro pela gestão de custos;
? Viabilização de soluções, entender o projeto, a planilha orçamentária e a logística da obra com apoio dos orçamentos e dos superintendentes.

Chefe de Desenvolvimento
Makro Atacadista S/A
June 2008 a October 2011
Gerenciamento de Clientes Relatórios de Acompanhamento Sistema BI;
Aumentos dos lucros, vendas, estabilidade do negócio, aperfeiçoamento das
ofertas, redução dos custos operacionais, aprimoramento da cultura da
empresa;
Ouvidora dos clientes, soluções e fidelização;
Compartilhamento e monitoramento de informações de gestão de negócios;
Education
Administração/RH
Universidade Anhembi Morumbi
(Brasil)
February 2013 a Currently studying
More 11-98332-9993
Career Goals
Coordenadora de Treinamento - Gerente de loja
Industries of interest
Other
Areas of interest
Administration, Finances, Acountancy, Banking Education / Training Public Relations Human Resources - HR Auditing Services Marketing Research Commercial / Sales
Availability to travel and work outside the city
Yes
Interests and hobbies
Desenvolver minhas experiências na área de desenvolvimento.
Leitura.