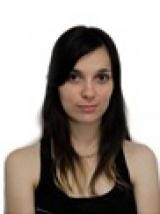 (11) 94966-7665
Araújo
Secretaria / Recepcionista in Clínica Vasti
São Paulo Capital
,
São Paulo
,
Brazil
Job Experience
Secretaria / Recepcionista
Clínica Vasti
March 2012 a April 2013
Recepcionava os pacientes, atendimento telefônico, agendamento de consultas e reuniões, serviços externos e bancário, organizava salas e ambientes, auxiliava o setor financeiro, secretaria dos médicos etc..
Auxiliar administrativo
Good Job Segurança
June 2011 a January 2012
Contas a pagar e receber, gerenciamento de arquivos e documentos contábeis, serviços externos e bancário, pagamento de funcionários, folha de ponto, auxiliava o setor de RH etc...
Op. de Caixa
Lojas Riachuelo
April 2010 a January 2011
Op de caixa com foco em vendas de seguros para cartões de crédito da loja.
Balconista
Fatum Rock Store
September 2009 a March 2010
Vendedora de varejo e atacado.
Telefonista (Estágio)
Laboratório Femme
September 2008 a January 2009
Agendamento de consultas e exames.
Promotora de Vendas / Supervisora de Vendas / Instrutora de Informática / Recepcionista
Intercom Informática
June 2007 a September 2008
Promotora de Vendas / Supervisora de Vendas / Instrutora de Informática / Recepcionista
Promotora de vendas (Emprego temporário)
Help Byte
April 2007 a May 2007
Buscava novas matriculas para a escola.
Op. de Caixa
Mc Donald's
November 2006 a March 2007
Op. de caixa e auxiliava no balcão da entrega de lanches.
Balconista
Chocolate Companny
December 2005 a April 2006
Vendedora e organizava a loja.
Ajudante Geral
Gráfica
September 2003 a January 2004
Montagens de: Embalagens, revistas, envelopes, caixas, empacotava etc.
Education
Curso Superior
Universidade Uninove
(Brasil)
February 2014 a Currently studying
Ensino Médio completo
E.E.P.S.G. ? Presidente Tancredo Neves
(Brasil)
February 2003 a December 2005
IT skills
Manutenção de Computadores
Basic
Web Design: FrontPage / Flash / Dreamweaver
Basic
Informática: Windows 98 / Windows XP / Windows Vista / Pacote Office / Internet;
Medium
Other Skills
Telemarketing
Atendimento ao cliente (recepcionista)
Técnicas de Secretariado
Técnicas de Administração
Técnicas de Contabilidade
More (11) 94966-7665
Career Goals
Em Busca de uma oportunidade para desenvolver e melhorar meus conhecimentos, e também algo que possa me instruir de forma crescente e contínua, visando sempre o crescimento entre eu e a empresa.
Industries of interest
Laboratories
Areas of interest
Administration, Finances, Acountancy, Banking
Availability to travel and work outside the city
No
Interests and hobbies
Gosto de ler e fazer pesquisas.