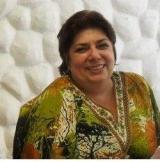 11 964477781
Dolores Raggi
Professora in Faculdade Anchieta
Sorocaba
,
São Paulo
,
Brazil
Current:
Faculdade Anchieta
Past:
T&D Consultoa em Gestão Empredarial e RH
Job Experience
Professora
Faculdade Anchieta
February 2009 to December 2011
Professora Universitária nos cursos de Ciências Contábeis, Gestão Financeira, Gestão da Qualidade nas disciplinas de: Cultura Organizacional, Gestão da Mudança, Negociação, Liderança, Jogos de Empresas.
Consultora de RH e Gestão Empresarial
T&D Consultoa em Gestão Empredarial e RH
June 2002 to Actually working here
Consultoria sobre gestão empresarial, planejamento estratégico, treinamento e consultoria.
Experiência em reestruturação organizacional e planejamento estratégico; Remuneração com base em resultados; Especialista sistema HAY; Elaboração de treinamento com base nas necessidades internas e mapeamento da Avaliação de Potencial. Seleção de pessoal de niveis estratégicos e gerenciais. Elaboração e Acompanhamento de Indicadores de RH. Atuação como Coahing.
Gerente RH
Rossi Residencial
January 2000 to May 2002
Gerente RH
Lafarge
January 1995 to April 2000
Coordenadora RH
Cimento Itau (Grupo Votorantim)
August 1990 to December 1994
Education
Especialização
[Otra]ESAB
(Brasil)
January 2010 to January 2010
Especialização
[Otra]Ibmec Business School
(Brasil)
January 1998 to January 1998
Bacharel
[Otra]FMU
(Brasil)
January 1984 to January 1988
Especialização
[Otra]Fundação Armando Álvares Penteado
(Brasil)
January 1982 to January 1982
Bacharel
[Otra]Universidade Metodista de São Paulo
(Brasil)
January 1975 to January 1978
Languages
Portuguese
Bilingual / Native
Other Skills
Network Systems
Microsoft Office
English
Portuguese
Microsoft Excel
ERP
SAP
Operating Systems
Dedicação
Negotiation
Talent Management
Strategic Planning
Profissionalismo
Ética
HR Consulting
Human Resources
More 11 964477781
Career Goals
Industries of interest
Areas of interest
Availability to travel and work outside the city
Yes
Interests and hobbies