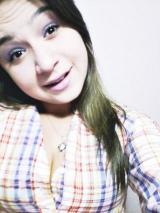 (11)958901459
Suellen Pinheiro
Sem experiencia in - - - --
Job Experience
Sem experiencia
- - - --
January 2014 a January 2014
Education
Estudando
EE Cidade de Hiroshima
(Brasil)
February 2008 a Currently studying
Other Skills
Dinamismo, espírito de liderança, articulada, solicita, prudente e coerente.
More (11)958901459
Career Goals
Sou Dinâmica, sei fazer o que tenho de fazer com facilidade e não me prendo só naquilo, gosto de deixar as coisas mais praticas; sei conversar com as pessoas com prudência porque Respeito; Tenho espírito de Liderança, costumo em trabalhos escolares projetos familiares e na igreja ser solicita no meu ?grupo?, dar ideias positivas, arrumar, limpar, sou criativa não gosto de negatividade; . O que não sei fazer simplesmente vou perguntar para aprender.Gosto de saber e aprender coisas novas..
Industries of interest
Construction Industry
Areas of interest
Quality
Availability to travel and work outside the city
No
Interests and hobbies
Sou jovem tenho apenas 16 anos, mas com uma grande vontade de trabalhar e aprender sobre o mercado de trabalho, talvez minha juventude seja uma bom proposito para me contratar, força de vontade para aprender não me falta!..Preparei um grande texto com pontos que gostaria de apresentar sobre mim, mas no campo acima não coube; Me chamar para uma entrevista seria um grande negócio.