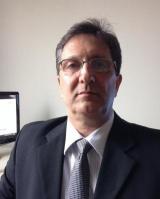 (11)99197-0086
Delfino
Gerente de Compras e Manutenção in Kofar Industria e Comercio
São Caetano do Sul
,
Acre
,
Brazil
Current:
Kofar Industria e Comercio
Job Experience
Gerente de Compras e Manutenção
Kofar Industria e Comercio
August 1997 to September 2013
? Negociar parcerias e condições de fornecimento de itens ?A? e equipamentos.
? Implantação dos sistemas de gerenciamento de manutenção, compras e estoque ( SMI e Microsiga ).
? Desenvolver e atualizar relatórios gerenciais de compras, estoque, manutenção e expedição.
? Elaborar, treinar e implantar procedimentos das normas ISO 9000-2000 e ISO/TS 16949-2000.
? Racionalização do consumo de energia elétrica e custos de telefonia.
? Assessorar diretoria e setores da empresa.
? Acompanhar indicadores de performance, redução de custos e produtividade.
? Definir perfil das equipes sob supervisão e propiciar motivação de seus membros.
? Planejar alternativas de terceirização.
? Elaborar planos de manutenção preventiva e preditiva.
? Negociar paradas para manutenção e implementar medidas emergenciais.
? Modificar equipamentos com anomalias graves e nacionalizar componentes.
? Promover recursos para as equipes e condições de segurança, saúde e qualidade.
? Acompanhar instalação e start-up de equipamentos.
? Contratar fornecedores para trabalhos especializados e acompanhar contratos.
? Desenvolver líderes e identificar necessidade de treinamento dos integrantes das equipes.
? Planejar atividades de armazenamento, controle de estoque e distribuição de materiais.
? Facilitar programas de melhoria contínua e de PLR.
? Supervisionar as equipes de compras, almoxarifado, manutenção e distribuição.
Chefe de Compras
Bombril S.A.
August 1993 to August 1995
? Supervisão dos setores de compras corporativas, de materiais diretos e indiretos. ? Administração, negociação de preços e condições de fornecimento de itens ?A?. ? Acompanhamento dos mercados de matérias-primas avaliando ofertas e evoluções de preços. ? Padronização dos procedimentos e informações gerenciais sistemáticas. ? Acompanhamento das metas de redução de custos. ? Reformulação do sistema informatizado de compras. ? Avaliação dos indicadores de performance dos fornecedores e implementação de ações corretivas. ? Desenvolvimento de novos fornecedores.
Coordenador de Compras
Arno S.A.
January 1990 to August 1993
? Planejamento de compras de materiais produtivos utilizando o conceito MRP. ? Administração e monitoramento dos parâmetros de compras. ? Negociação de preços e condições de fornecimento de 360 itens. ? Administração do orçamento de compras dos itens programados visando o alcance das metas. ? Avaliação da capacidade técnica dos novos fornecedores. ? Promover a interação dos fornecedores com os setores de Produção e Controle da Qualidade.
Gerente de Produção
Crown Com. e Ind.Ltda.
April 1989 to January 1990
Gerente de Produção
Gradelar Ind. e Com. S.A.
January 1984 to March 1989
Coordenador de Projetos
KL&M Engenharia e Consultoria S/C Ltda.
May 1981 to September 1983
Education
Pós graduação
[Otra]Universidade Paulista
(Brasil)
January 2007 to January 2007
Administração Industrial
[Otra]Fundação Vanzolini - Escola Politécnica - USP
(Brasil)
January 2004 to January 2005
Graduação
[Otra]Universidade Presbiteriana Mackenzie
(Brasil)
January 1978 to January 1982
More (11)99197-0086
Career Goals
Industries of interest
Areas of interest
Availability to travel and work outside the city
No
Interests and hobbies