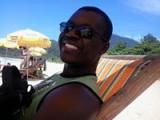 12 98171-7478
Andrade
GERENTE DE FILIAL in CONCRELEÃQO CONCRETOS LTDA
Guaratinguetá
,
São Paulo
,
Brazil
Current:
CONCRELEÃQO CONCRETOS LTDA
Education:
TECNOLOGO EM GESTÃQO EMPRESARIAL
Job Experience
GERENTE DE FILIAL
CONCRELEÃQO CONCRETOS LTDA
June 2013 a Actually working here
Motivar e liderar a equipe na produção e entrega do concreto usinado, coordenar a manutenção dos equipamentos (caminhões, bombas de concreto, PA carregadeira, central etc.). Cultivar novos clientes e fidelizar os antigos. Verificar as providências tomadas para a programação do dia, horários, clientes preferenciais. Enviar relatórios diários, semanais e mensais, para a matriz. Visando sempre a produtividade.
Education
TECNOLOGO EM GESTÃQO EMPRESARIAL
FATEC-GUARATINGUETÁ/SP
(Brasil)
February 2003 a December 2007
More 12 98171-7478
Career Goals
Trabalhar em uma empresa onde eu possa adquirir conhecimentos e junto com os meus, coloca-los em pratica para o bem da organização. Visando também oportunidade de crescimento tanto profissional quanto pessoal.
Industries of interest
Industry
Areas of interest
Production and Maintenance
Availability to travel and work outside the city
Yes
Interests and hobbies
Passear com a familia, campo ou praia.
Andar de motocicleta, passar tempo com os amigos e familiares.
Andar de bicicleta, caminhar.