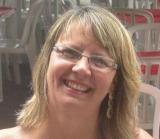 (21) 99364-7661
Anita Matos
Supervisora de Recursos Humanos in Niely Cosméticos
Nova Iguaçu
,
Rio de Janeiro
,
Brazil
Job Experience
Supervisora de Recursos Humanos
Niely Cosméticos
December 1994 a November 2013
Implantei o setor de Recursos Humanos na empresa;
Supervisão dos setores: Recursos Humanos, Segurança do Trabalho, Medicina do Trabalho;
Acompanhar o trabalho da equipe, direcionar/orientar em todas as atividades.
Trabalhava com Recrutamento e Seleção, desenvolver e ministrar treinamentos, de acordo com a necessidade da empresa. Descrição de cargos de todas as 3 Empresas ligadas ao Grupo Niely.
Eu era supervisora, mas sou mão na massa. Eu orientava, mas também fazia.
Education
Graduação
Universidade Gama Filho
(Brasil)
February 1990 a July 1995
IT skills
Word, excel, power point
Medium
More (21) 99364-7661
Career Goals
Estou em busca de Oportunidade na Área de Recursos Humanos.
Cargos de Interesse: Coordenadora/Supervisora de Recursos Humanos, Analista de Recursos Humanos, Consultora de Recursos Humanos, ou outra cargo que a Empresa considere dentro do meu perfil.
Industries of interest
Areas of interest
Human Resources - HR
Availability to travel and work outside the city
Yes
Interests and hobbies
Gosto de caminhadas, de conhecer pessoas, fazer novas amizades. Adoro dançar, é uma terapia para mim.
Gosto de ler, para enriquecer meus conhecimentos, meu vocabulário.