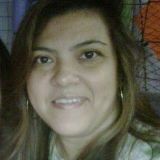 21970247830
Okano
Analista de compras in Limppano SA
rio de janeiro
,
Rio de Janeiro
,
Brazil
Past:
Lokano Representações
Education:
Gestão em Logística
Job Experience
Analista de compras
Limppano SA
October 2012 a Actually working here
Compra de produtos internacionais como matéria-prima.
compra de suprimentos, matéria-prima nacional, manutenção, marketing e embalagemGestão de desenvolvimento de projetos para novas embalagens e nacionalização de produtos químicos .Follow-up, emissão dos pedidos de compras; Análise e notas fiscais e devoluções
Usuária do sistema SAP módulo MM , sistema MXM e TOTVS (RM);
Representante comercial
Lokano Representações
August 2010 a October 2012
Experiência como Representante Comercial mercado do Rio de janeiro. Vendas voltadas para indústria no ramo de cosméticos, farmacêutico e alimentos Especialização no segmento de matérias-primas especialidades em ésteres (produtos químicos), embalagens como papelão, rótulos, etiquetas , adesivos com impressão flexografia e serigrafia, embalagens nylon poli com barreira de oxigênio para alimentos.
Negociação com área de compras agregando produtos e desenvolvimento novos.

coordenadora de compras
Delly Kosmetic LTDA
June 2002 a August 2010
Busca e Implementação de novos fornecedores buscando qualidade, preço com o objetivo de trazer resultados positivos para empresa; Conhecimento do mercado de embalagens, matérias-primas, suprimentos e marketing; Participação do sistema de BPF (Boas Práticas de Fabricação), análise de controle de qualidade; Interface com o setor de meio ambiente para cotações e negociações de contrato de efluentes, destruição de resíduos classe I, tratamento de fossa séptica, Carga Orgânica Biodegradável, Limpeza e desinfecção dos reservatórios de água potável, locação de caçamba, transporte para tratamento de efluentes; Gestão de desenvolvimento de projetos para novas embalagens e nacionalização de matéria-prima em conjunto com laboratório, controle das obras prediais. Follow-up, emissão dos pedidos de compras; Emissão de relatórios e demonstrativos de desempenho das Compras Responsável pelas compras dos produtos de terceirização Usuária do sistema SAP módulo MM Ferramentas utilizadas Windows, Word ,Excel e internet
Education
Gestão em Logística
[Otra]Universidade Castelo Branco
(Brasil)
January 2007 a January 2009
Other Skills
SAP
ERP
Microsoft Excel
Logistics
Negotiation
Portuguese
5S
Com
Supply Chain
More 21970247830
Career Goals
Iniciativa e facilidade no relacionamento interpessoal, preferência pelo trabalho em equipe. Busca constante por novos desafios e cumprimento de metas estabelecidas com motivação.
? Desde 1990 experiência em empresas no ramo de comércio varejista e industrial (Empresas trabalhadas: Lojas americanas S/A; Lundgren Irmãos Tecidos (Casas Pernambucanas) e Casas Sendas.

Industries of interest
Areas of interest
Availability to travel and work outside the city
Yes
Interests and hobbies
compras.