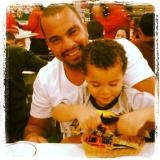 21999839290
Diogo Martins
Motorista in LPR locaçao de bens moveis
Rio de Janeiro
,
Rio de Janeiro
,
Brazil
Current:
LPR locaçao de bens moveis
Past:
Rede Globo (contrato Let)
Job Experience
Motorista
LPR locaçao de bens moveis
June 2014 to Actually working here
Motorista
Rede Globo (contrato Let)
July 2013 to December 2013
Motorista da Diretoria,operações,viagens entre outros.
Obs:experiencia com carros automaticos e Blindados.

Motorista
Regopazos
September 2012 to June 2013
Responsavel por toda entrega de materiais e equipamentos Rio e grande Rio,deslocava os Engenheiros e funcionarios para as obras,fazia solicitação de EPI(equipamento de proteção individual) para os mesmos.Serviço de banco,inspeção do veiculo,solicitava reparo de alguns equipamentos,entre outros.

Motorista
Soluções Rio
May 2010 to September 2011
Responsável por toda entrega de material Fixação e Bandejamento,serviços de banco,supermercado entre outros.providenciava a limpeza e o abastecimento dos veículos,fiscalizava e orientava no carregamento e descarregamento dos produtos.inspecionava o veiculo anotando os defeitos existentes e os encaminhava para meu superior,para ser providenciado o reparo.
Obs:Motorista da Família.

Education
E Fisica
Estacio de Sa
(Brasil)
March 2002 to August 2002
Superior Incompleto
Estacio de Sa
(Brasil)
March 2002 to September 2002
More 21999839290
Career Goals
Profissional com mais de 10 anos de experiência, com boa fluência verbal, boa aparência,iniciativa,dinâmico,liderança,facilidade de adaptação a novas formas de trabalho,assiduidade e comprometimento em primeiro lugar.
Industries of interest
Other
Areas of interest
Transportation
Availability to travel and work outside the city
Yes
Interests and hobbies
Malhar,Futebol e Futevôlei.