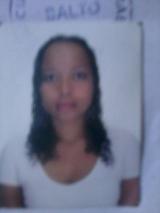 (31)93026055
Erika Rodrigues Balieiro
controlador de acesso e portaria in PORTO SEGURO LTDA.
Ipatinga
,
Minas Gerais
,
Brazil
Current:
PORTO SEGURO LTDA.
Past:
Hospital Geral Pirajussara
Education:
ENSINO MÉDIO COMPLETO
Job Experience
controlador de acesso e portaria
PORTO SEGURO LTDA.
September 2012 to February 2013
trabalhava no controle(entrada e saída) de funcionários e entregas de mercadorias, visitantes na empresa Tim da Giovani Gronchi em SP.
Lactarista
Hospital Geral Pirajussara
March 2012 to July 2012
trabalhava em lactário fazendo a preparação dos alimentos líquidos de paciêntes internados que tinham que se alimentar atravéz de sondas e alimentos do berçário e maternidade de mamadeiras com leites especiais com fórmulas p/ recém nascidos e pré-maturos.Com acompanhamento de nutricionista plantão.

porteiro(a)
SOUZA LIMA LTDA.
November 2011 to March 2012
trabalhei em segurança de Shopping localizada no Taboão da Serra.SP. também permaneçi em dócas controlado entrada e saída de mercadorias e orientadora de piso,visualizando também a segurança do local em casos de roubos e outras eventualidades.
VEndedora
USAIN BOLT PRESENTES LTDA.
August 2011 to October 2011
Trabalhei como vendedora e bordadeira em máquina industrial no quiosque no Shopping Center do Taboão da Serra, além de bordar tinhamos de convençer os clientes de comprar os artigos vendido ali no quiosque recebiamos por comição.
Education
ENSINO MÉDIO COMPLETO
PAULA SANTOS
(Brasil)
January 1903 to January 1903
Other Skills
PPORTARIA E CONTROLADOR DE ACESSO
More (31)93026055
Career Goals
Desejo atender as necessidades da empresa,tenho facilidade de trabalhar em equipe e de aprendizado procuro oportunidade p/ cresçer juntamente com a empresa.
Industries of interest
Safety
Areas of interest
Production and Maintenance
Availability to travel and work outside the city
Yes
Interests and hobbies