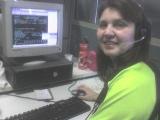 41 99184129
Jonila Franklin
Consultor comercial in Microcamp
Job Experience
Consultor comercial
Microcamp
January 2015 to May 2015
Locador
Galvao locações
January 2014 to November 2014
asistente adminstrativo
softmarketing
January 2013 to September 2013
atendimento a fornecedor, compras, documentos etc.
televendas
brasiltelecom
January 2012 to January 2012
vendas de planos de telefonia, internet
gerente de marketing
Rabelo Eletro
January 1904 to January 1904
Funções: Acompanhamento da gerencia de produtos/serviços e pós-vendas, a nível estadual e nacional;. Avaliação das campanhas publicitárias da agencia de propaganda, e desenvolvimento de pesquisas de mercado para planejamento estratégico de marketing e comunicação integrados. Desenvolvi o Trade Marketing estabelecendo a necessidade de se adaptar produtos, logistica e estratégias de marketing, de modo a conquistar o consumidor nos pontos-de-venda, com um modelo de parceria e desenvolvimento das relações entre os fabricantes e seus canais de vendas; pelo entendimento das necessidades entre marcas, pontos-de-venda e consumidores. Definindo quais canais de mídias utilizados, que produtos desenvolvidos e que canais de comercialização para atender as preferências de consumo do público-alvo; com a busca de resultados impactantes para crescimento de demanda,.

vendedora e gerente
varias
January 1903 to January 1903
em varios seguimentos de mercado
Education
marketing
unifor
(Brasil)
October 2001 to October 2002
pedagogia
UFC
(Brasil)
January 1904 to January 1904
Other Skills
j
liderança, organização, análise, trabalho em equipe
More 41 99184129
Career Goals
Desenvolver-me profissional e colaborar com o crescimento da empresa.
Industries of interest
Areas of interest
Availability to travel and work outside the city
Yes
Interests and hobbies