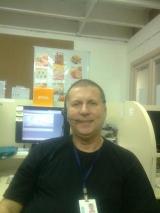 +5551 85652702
Lopes Cavalheiro
Operador de Telemarketing Receptivo in Sicredi
CANOAS
,
Rio Grande do Sul
,
Brazil
Past:
Atendebem /South do Brasil
Education:
Engenharia Química
Job Experience
Operador de Telemarketing Receptivo
Sicredi
January 2013 to April 2013
Operação Sicredi
-SAC,Atendimento ao cliente,desbloqueio e bloqueio de cartôes e desbloqueio de internet para o sistema sicredi.
Operador de Telemarketing Receptivo
Atendebem /South do Brasil
May 2008 to January 2013
Operação Stihl
-SAC,Atendimento técnico para concessionárias e atendimento ao cliente,onde comprar e Back office.
Operador de Telemarketing Receptivo
Atendebem
August 2007 to May 2008
Operação Springuer Carrier
SAC,Atendimento ao cliente e atendimento a concessionárias,agendamento de atendimento técnico.
Education
Engenharia Química
Ulbra Canoas RS
(Brasil)
March 2001 to November 2002
Comissário de Vôo
EACON-Escola de Aviação Congonhas POA RS
(Brasil)
July 1999 to December 1999
Técnico em Química
Fundação Liberato Salzano Vieira da Cunha NH
(Brasil)
March 1986 to December 1991
IT skills
Word,Excell,Powerpoint
Advanced
Other Skills
Troca de informações,sociabilidade,precisão
More +5551 85652702
Career Goals
Eu sou um membro da equipe , amigo e sociável, beneficiado da
experiência dentro do
? mercado técnico e competitivo da indústria química, aviação,
? comércio e telemarketing que é exigido de mim a capacidade de
pensar em
? Qualidade em um alto nível de serviço ao cliente, problemas de
resolução de lidar com
? dúvidas e reclamações de todos os tipos de pessoas. Eu sou capaz
de trabalhar em equipe
? com uma comunicação fácil e precisa e estou determinado a ajudar.
Eu tenho
? uma capacidade para lidar com qualquer posição na frente do
cliente, orientando e fazendo
? indicações para que ele possa atingir o seu objetivo.
Industries of interest
Tourism
Areas of interest
Call Centers / Customer Service
Availability to travel and work outside the city
Yes
Interests and hobbies
Sesc alongamento na academias e programação para férias em hoteis da rede conveniada.