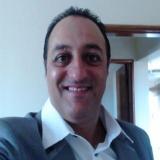 (62) 9343-2247
Oliveira Gomes
Supervisor de Serviços Técnicos Comerciais in Arca Elétron e Eletrificação Ltda
Current:
Arca Elétron e Eletrificação Ltda
Education:
GESTÃO EMPRESARIAL
Job Experience
Supervisor de Serviços Técnicos Comerciais
Arca Elétron e Eletrificação Ltda
January 2002 a March 2014
? Vivência em processos de recrutamento e seleção, envolvendo o levantamento do perfil e abertura de vagas, triagem de currículos, entrevistas por competência, aplicação de testes, promovendo a contratação de profissionais qualificados às vagas propostas;
? Elaboração de treinamentos, realizando o levantamento de necessidades,
? Responsável pela análise de conduta dos colaboradores das áreas técnica e comercial;
? Responsável pela revisão e elaboração de padrões de execução dos serviços;
? Repre
Education
GESTÃO EMPRESARIAL
CESUC - CENTRO DE ENSINO SUPERIOR DE CATALÃO
(Brasil)
March 2007 a July 2008
IT skills
Cursos de computação
Medium
More (62) 9343-2247
Career Goals
Prezados Senhores,
Em busca de nova proposta de trabalho na área administrativa, na função de Supervisor de Operações, com minha dedicação, comprometimento, pro atividade e com a capacidade e buscar melhores resultados em sua organização.
No aguardo de contato de sua parte, coloco-me à disposição para prestar-lhes maiores esclarecimentos.
Atenciosamente;
Carlos Humberto Oliveira Gomes

Industries of interest
Services
Areas of interest
Human Resources - HR
Availability to travel and work outside the city
Yes
Interests and hobbies
O que me dá prazer é caminhar ao redor de um lago, bosque, ou melhor, perto da natureza.