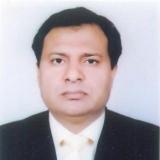 A.K.M.
Azad
General Manager, Strategic Sales in Information Solutions Limited
Current:
Information Solutions Limited
Education:
Master of Business Administration (MBA)
Job Experience
General Manager, Strategic Sales
Information Solutions Limited
December 2009 to Actually working here
a. Excellent man management skills and use of latest management techniques / tools <br /> b. Extensive coordination with management, marketing, source of financing.<br /> c. Market report analysis, oversee the marketing & its promotional plan <br /> d. Establish guideline for sales team to develop sales strategy and technique. <br /> e. External coordination with supplier, buyer and other agencies related to our business. <br /> f. Ensuring cost reduction by reducing all kinds of wastage. <br /> g. Take
Business Manager, Corporate Sales
Computer Source Ltd
February 2008 to December 2009
? Develop and analyze market including preparation of competitive costing for different segments. <br />? Prepare analytical report in light of new business development for the company. <br />? Review existing operation and develop plan for further improvement. <br />? Assess and evaluate the present market to obtain direction for new business. <br />? Develop marketing policies, strategics and ensure their effective implementation to achieve business excellence. <br />? Formulate media strategy and promotional plans co
Manager, Business Development
Excel Telecom Ltd, A National Distributor of NOKIA
January 2006 to January 2008
Undertake market research, develop and implement new product initiatives to increase customer satisfaction and profitability. <br />* Provides analytical support for the development of marketing campaign analysis and regulatory performance analysis.<br />* Utilize understanding of customer characteristic demographics, portfolio trends and performance, competitive and economic environment and knowledge of internal processes to develop portfolio segmentation and initiate action plan. <br />* Monitor the product
4. Area Sales Manager
Sanofi-aventis (BD) Ltd (Fisons Bangladesh Ltd.) the largest MNC in the World.
November 1994 to December 2005
a. Promote the products to the assign clients, create demands and convert into sales. <br />b. Execute campaigns and initiatives in co-ordination with marketing to enhance to sales. <br />c. Provide and communicate information effectively to support strategic analysis of channel. <br />d. Develop initiative and regularly monitor the performance to achieve targets manage budget and design commission plans.<br />
Education
Master of Business Administration (MBA)
Asian University of Bangladesh
(Bangladesh)
January 2004 to December 2005
Masters of Science
Dhaka University
(Bangladesh)
January 1992 to December 1992
Bachelor of Science (Honors)
Dhaka University (Bangladesh)
(Bangladesh)
January 1989 to December 1991
More A.K.M.
Career Goals
Aim to secure a highly result oriented position that demands constant valued addition through the utilization of gain skills and experiences.
Industries of interest
Areas of interest
Availability to travel and work outside the city
Yes
Interests and hobbies
Singing, traveling,reading