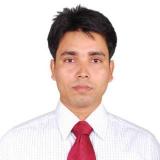 A.K.M.
Salauddin
Deputy Manager ( Head of Maintenance) in Midas Safety
Job Experience
Deputy Manager ( Head of Maintenance)
Midas Safety
June 2014 to Actually working here
? Work closely with maintenance specialists, maintenance planners and reliability program developer on equipment reliability issues, and failures trends, in order to improve existing Preventive and Predictive Maintenance plans. ? Ensuring all maintenance tasks issued are created in SAP and all relevant information regarding the work and parts is entered into SAP on work order completion. ? Use risk review approaches, HAZOP studies, MOC (Management of Change) process and other safety checks in order to maintain and improve area safety and reliability performance indicators ? Perform root-cause failure analysis ? Mentor junior engineers and technician. ? Providing support in identifying, proposing, and implementing solutions to other plant departments: Production, Maintenance, Environmental, etc. ? Developing feasibility studies, checking the process, the quality and the economics and reviewing all the options. ? Providing direction on project scope and requirements to the suppliers based on specifications included in the Procurement agreements. ? Providing direction to construction contractors in understanding and meeting the requirements of the contract scope and in complying with all applicable safety and environmental requirements. ? Commissioning and managing the start up. ? Preparing progress reports, communicating financial figures, scheduling, and key facts. ? Reviewing project outcomes, i.e., results versus goals, vendor and contractor performance, engineering performance. Developing "lessons learned" for future projects. ? Submitting documentation for construction permitting and providing documentation for environmental permit. ? Providing emergency services to plant operations. ? Ensuring safety and environmental compliance during all aspects of project execution. ? Assisting in the development of short- and long-term improvement plans for the plant.
Asst.Production Engineer( Control Room Engineer)
WGPSN
August 2011 to Actually working here
Production Engineer
Wood Group Production Service Network
August 2011 to April 2014
Onshore and offshore, Santos gas field, Salimpur Chittagong Bangladesh Period : August 2011 to till now. Major Responsibilities Ensuring safe and environmentally acceptable operation of all plant equipment both onshore and offshore. Supervise field operator. Monitor and control plant as a control room engineer Monitor and respond to Alarms / diagnose the root cause for the alarms Production reporting, upkeep of records and logbooks, recording of isolations and effective hand over of information to the following shift. Ensuring that export product specifications are within limits while on shift. Carrying out first line maintenance/identifying and reports faults. Carrying out emergency duties. Ensuring an adequate stock of production chemicals and other consumables. Monitoring and controlling the flow of hydrocarbons from the reservoir to point of export. Operating all utilities and systems. Minimizing downtime and achieving production targets. Preparing production reports. Carrying out mechanical isolation, gas tests and work-site inspection. Developing safety culture by regular safety meetings, training programs and toolbox talks. Compliance with the management system, maintenance system and the case for safe operations. Compliance with well management program. Laboratory sample testing using modern & sophisticated equipment, analyzing and reporting along with recommendations. Ambient air quality monitoring. Routine visits or any projects like well intervention or drilling campaign. Detail studies of process for improvement. Comply with ISO 14001 legislations
Engineer (Operation & Maintenance)
Summit Power ltd
January 2009 to July 2011
Engineer (Operation and Maintenance)
Summit Power Ltd
January 2009 to July 2011
? Controlling, Coordinating and supervising all operational activities to run the shift smoothly and maximizing output. ? To investigate mechanical and electrical failures of unforeseen problems. Take immediate corrective action during system operational disturbance. ? To maintain plant's Spare Parts Inventory & timely placing demands of spares as per maintenance schedule, fast moving spares & for unforeseen use, posting on server base software and help audit team. ? Work with the team to establish goals, priorities and expectations and develop the action plans and strategies for accomplishing them. ? Prepare Monthly Generation Report (required for preparing the commercial Billing) and operational report for regulatory and budgetary purpose ? Demonstrates continuous effort to improve operations, decrease downtimes, streamline work process and work cooperatively and jointly to provide quality seamless customer services. ? To supervise other Operators, Technicians and General Laborer in support of the Plant's Operation and Maintenance. ? Carry out regular fire drill and maintain safety regulations.
Project Engineer
Ananda Shipyard & Slipways Ltd
June 2007 to December 2008
Project Engineer
Ananda Shipyard and Slipways Ltd.(ASSL)
June 2007 to December 2008
? In charge of Construction & procurement of Mozambique ship (12.m Catamaran, 20.58 m ferry boat, 27.24m passenger cargo boat, and 48.86m ferry boat). ? Responsible for the sourcing of parts, components or material for Mechanical & Electro-Mechanical commodities according to supplier specification. ? Negotiate with suppliers to meet customers target price. ? Technical review, supplier evaluation, capability of equipment and selection from various quotation .to optimize price and quality of the equipment. ? Preparing bill of quantities (BOQ) of local items and contractor worker?s steel structure. ? Coding for CNC Machine to cut a complex shape in huge number. ? Check the sand blasting work quality. ? According to drawing steel plate, frame pipe was fabricated which includes edge Preparation according to thickness, bending. ? To check the welding quality, time of pass, thickness of welding and advice find any fault. ? NDT test of welding at critical joint. Mainly check undercut, porosity, lack of penetration, crack. ? To pressure test of Tank at required pressure and had to notify GL and owner of ship. ? Installation the equipment on ships. ? Raping the insulation at required place according to requirements of insulation class. ? Commissioning of all equipments on above mentioned ships. ? Prepare sea trial documents and hand over to GL.
Education
PGD
ABP-UK
2010 to 2011
B.Sc
Bangladesh University of Engineering and Technology
2002 to 2007
Post Graduate Diploma in Human Resource management
ABP-UK
Currently studying
B.Sc in Mechanical Engineering
Bangladesh university of Engineering & technology
Currently studying
Master of Business Administration (MBA)
PML
Currently studying
Other Skills
Petroleum
Metal Fabrication
Mechanical Engineering
Onshore
Procurement
Project Engineering
Offshore Drilling
Factory
HAZOP
Inspection
Piping
Weld
ISO
Gas
Plant
Materials
Troubleshooting
Fabrication
Welding
Engineering
Production
PowerPoint
Excel
Word
Oil
AutoCAD
More A.K.M.
Career Goals
As a Mechanical Engineer, I am willing to explore my career in challenging and creative ideas to resolve the technical problem as well as becoming a specialist in technical and managerial fields. I want to run a responsible position where I can use my Engineering knowledge and logical innovative ideas to contribute in the welfare of the organization.
Industries of interest
Areas of interest
Availability to travel and work outside the city
Yes
Interests and hobbies