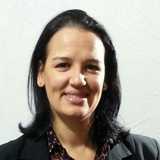 11 98100-3875
Legal
Coordenadora de Treinamento e Desenvolvimento in Unimed Paulistana Cooperativa de Serviços Médicos
São Paulo
,
São Paulo
,
Brazil
Current:
Unimed Paulistana Cooperativa de Serviços Médicos
Education:
Mediação, Facilitação de Diálogo e Construção de Consenso
Job Experience
Coordenadora de Treinamento e Desenvolvimento
Unimed Paulistana Cooperativa de Serviços Médicos
April 2014 a June 2015
Liderança de equipe com 10 integrantes (04 consultores internos de RH, 04 analistas de treinamento e 2 assistentes) que atendem as superintendências e líderes da cooperativa (matriz e unidades assistenciais). Responsável pela definição estratégica e gestão do planejamento anual de treinamento, plano de sucessão, código de conduta, normas e processos corporativos de RH relacionados ao desenvolvimento do capital humano em todos os níveis, programa de jovens aprendizes e PCD.
Supervisora de Treinamento e Endomarketing
Unidas S/A
August 2002 a July 2011
? Responsável pelas ações de educação corporativa, liderando a implantação, gestão, prioridades e definição de estratégias da Universidade Corporativa. Liderança de equipe com 04 integrantes. Planejamento anual, orçamento, controles, despesas, ROI e indicadores, levantamento de necessidades, soluções e acompanhamento da implantação dos programas técnicos, operacionais, comportamentais, estratégicos e específicos para líderes. Responsável pelas ações de endomarketing, responsabilidade social.

Gerente de Desenvolvimento
Legalas Consultoria
January 2000 a January 2014
Responsável pelo contato com clientes e pelo desenvolvimento de conteúdos para treinamentos e consultoria em qualidade de vida no trabalho, com grandes empresas atendidas: Hospital Albert Einstein, Unilever, Roche, DOW, Natura, BNDES. Desenvolvimento de consultoria e assessoria comercial, estratégica e cultura organizacional para pequenas e médias empresas, reestruturação de área comercial, seleção de pessoas, formação e desenvolvimento de equipes de vendas externas e telemarketing, rotinas, etc
Vendedora - treinadora
Nestle Brasil
April 1993 a January 2000
Gestão de equipe (desenvolvimento e coaching). Contato com as áreas internas (Trade/Vendas). Elaboração de roteiros de visitas. Responsável pelas atividades promocionais desenvolvidas no PDV. Entregar e garantir o uso dos materiais de PDV. Acompanhamento das vendas por unidade atendida.
Contratação, seleção, treinamento e desempenho dos promotores e pelas comunicações e ações no ponto de venda, encontros e reuniões semanais.

Education
Mediação, Facilitação de Diálogo e Construção de Consenso
Palas Athena
(Brasil)
March 2012 a December 2012
Estratégica do Conhecimento e Inovação
SENAC SP
(Brasil)
March 2010 a June 2011
Gestão do Conhecimento, Educação Corporativa e Aprendizagem Organizacional
FIA USP
(Brasil)
February 2008 a December 2008
Comunicação Social
Universidade Guarulhos
(Brasil)
March 1999 a December 2002
Other Skills
Técnicas de Treinamentos Andragógicos |
Gestão de Pessoas (Liderança / Liderança Situacional)
Endomarketing: Prioridades Empresariais e Estratégico Alinhamento Interno
? Diretrizes para treinamento ? ABNT NBR ISO 10015:2001
Como desenhar programas de T&D que geram resultados ? Modelo 6 Ds
HCMBOK - Human Change Management ? 1 e 2 -
More 11 98100-3875
Career Goals
Recursos Humanos / Desenvolvimento Organizacional / Treinamento e Desenvolvimento
Industries of interest
Areas of interest
Human Resources - HR
Availability to travel and work outside the city
Yes
Interests and hobbies
Estudar, ensinar, cozinhar.