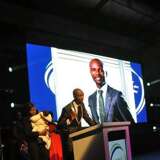 Babatunde
Fayoade
Compliance Manager in Fidson Healthcare plc
Baruwa, Ipaja
,
Lagos
,
Nigeria
Current:

Fidson Healthcare plc

Past:

Fidson Healthcare plc

Education:

Master of Business Administration
https://profiles.jobomas.com/babatunde.fayoade
Job Experience
Compliance Manager
Fidson Healthcare plc
March 2017 to Actually working here
? To provide leadership for the Quality department functions and manage all HSE related issues in the organization.
? To ensure that products manufactured and supplied by FIDSON HEALTHCARE PLC and its subsidiaries in Nigeria or on its behalf meet the requirements of cGMP, regulatory guidelines and FIDSON Quality Management System (QMS).
? To ensure that only wholesome finished products that meet prescribed quality standards are manufactured according to prescribed procedures, approved and released for sale.
? Enforce compliance of factory operations; processes; personnel; premises; and equipment with current GMP standards and established regulations.
? To respond to alleged violations of rules, regulations, policies, procedures, and Standards of Conduct by evaluating or recommending the initiation of investigative procedures.
? Identify compliance issues that require follow-up or investigation.
? Disseminate written policies and procedures related to compliance activities
? To organize and conduct GMP and other relevant learning and development programs for the factory staff.
? Support the factory during external inspections as needed.
? Remain current with domestic and international regulatory requirements and quality standards, i.e USP, WHO, etc.
? Involvement in the development of packaging materials concept to commercialization.
? Oversee the packaging materials analysis function to ensure that only materials that meet quality specifications are released for use.
? Assess product, compliance, or operational risks and develop risk management strategies.
? Evaluate testing procedures to meet the specifications of environmental monitoring programs.
? Conduct environmental audits to ensure adherence to environmental standards.
? Ensure all production equipment, IPQA test equipment and laboratory equipment in use are in current state of calibration. Organize the performance of annual calibration for all relevant equipment.
? Communicate essential information in a timely manner to all key stakeholders.
? Any other duties as assigned by the management.

Quality Assurance Manager
Fidson Healthcare plc
January 2014 to February 2017
Draft quality assurance policies and procedures.Interpret and implement quality assurance standards.Evaluate adequacy of quality assurance standards.Revise sampling procedures and directions for recording and reporting quality data.Review the implementation and efficiency of quality and inspection systems.Plan, conduct and monitor testing and inspection of materials and products to ensure finished product quality.Document internal audits and other quality assurance activities.Investigate customer complaints and non-conformance issues.Collect and compile statistical quality data.Analyze data to identify areas for improvement in the quality system.Develop, recommend and monitor corrective and preventive actions.Prepare reports to communicate outcomes of quality activities..Identify training needs and organize training interventions to meet quality standards.Coordinate and support on-site audits conducted by external providers.Evaluate audit findings and implement appropriate corrective actions.
Education
Master of Business Administration
Obafemi Awolowo University
September 2014 to May 2017
Barchelor of Science
Obafemi Awolowo University
February 1999 to July 2005
IT skills
More Babatunde
Availability to travel and work outside the city
Yes