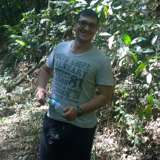 .diego Henrique
Molineiro
Técnico mecânico in THYSSENKRUPP METALÚRGICA
jundiai
,
São Paulo
,
Brazil
Current:
THYSSENKRUPP METALÚRGICA
Education:
Técnico mecânico
Job Experience
Técnico mecânico
THYSSENKRUPP METALÚRGICA
February 2011 a October 2016
: manutenção programada e retrofit de máquinas operatrizes, tornos CNC, reforma de retíficas, automatização de processos produtivos, desenvolvimento de procedimentos técnicos para diminuir tempo de manutenção corretiva, diminuição de quebra através de desenvolvimento de check list de inspeção de componentes, baseado em analises de quebra e falhas do maquinário, analises de vibrações, ruídos, facilitando a manutenção e ganhando tempo e qualidade na produção. Montagem de sistemas elétricos, pneumá
Ajudante de mecãnico
Fiação Fides
December 2010 a January 2011
realização de manutenção preventiva e corretiva de maquinas de fiação de algodão como também atendo e auxiliando todo o processo de produção dês da transformação de algodão em fio e os fios de algodão em tecidos.

Alimentador de linha
ENVISION INDÚSTRIA DE PRODUTOS ELETRÔNICOS LTDA.
August 2008 a December 2010
Trabalhei primeiramente na produção na montagem de monitores de computador em diversos postos de trabalho, montagem de embalagem até o processo de instalação de placas main, key, Power. E nos postos de teste de qualidade. Depois recebi uma promoção e trabalhei no abastecimento das matérias primas na linha de montagem, ajudando a fazer ajustes na linha de montagem set up para diferentes modelos de monitores. Conferia toda a matéria prima antes de abastecer a linha e ajudei a implantar o 5S no set
Education
Técnico mecânico
Colegio Duque de Caxias
June 2010 a December 2011
IT skills
Autocad, exel, word, power point,
Basic
More .diego Henrique
Career Goals
Meu objetivo sempre foi trabalhar na área de manutenção de maquinas. Como todos na minha família trabalham na área de engenharia mecânica principalmente na área de manutenção de maquinas comecei a gostar de manutenção devido as conversas de família que sempre foram voltadas para a discussão de problemas e soluções de eventuais problemas encontrados na indústria metal mecânica. Como também discussão de novas tecnologias para a otimização do maquinário através de manutenções planejadas, e tpms
Industries of interest
Industry
Areas of interest
Production and Maintenance
Availability to travel and work outside the city
Yes
Interests and hobbies
Meus principais interesses e hobbies, quando não estou envolvidos em atividades do meu trabalho a qual não estou trabalhando no momento é pela pratica do aquarismo onde posso me desligar do trabalho e relaxar e cuidar dos meu peixes e curtir um pedaço da natureza dentro de casa e também praticando o sup e canoagem nas represas da região onde eu posso ter um tempo meu e de meus pensamentos sem o barulho e a correia da cidade.