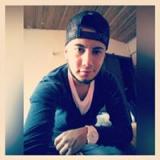 Dylan
Varela R
Ejecutivo Comercial in INTERNACIONAL DE VEHICULOS
Bogota
,
Cundinamarca
,
Colombia
Current:
INTERNACIONAL DE VEHICULOS
Education:
Marketing Digital
Job Experience
Ejecutivo Comercial
INTERNACIONAL DE VEHICULOS
June 2016 a November 2016
Sector Noroccidente.
Cargo ocupado: EJECUTIVO COMERCIAL.
Encargado de la venta de Chevrolet, automóviles. Sedans, Hds, Camiones & camionetas por medio del chevy plan al público, publicidad & marketing digital.

Tesorero y administrador
Itek LTDA.
December 2014 a February 2016
Sector Chapinero.
Cargo ocupado: ADMINISTRADOR, TESORERO & WEB MASTER
Tareas o logros realizados: Llegue a ocupar este cargo por mi buen desempeño en la empresa, donde me encargaba de la administración de uno de los almacenes, inventariado, bodega, proveedores, páginas web & empleados.

Asesor Comercial
El Mayorista del Pc LTDA.
May 2014 a December 2014
Sector Chapinero.
Cargo ocupado: ASESOR COMERCIAL.
Tareas o logros realizados: Venta de computadores a por mayor y detal, componentes electrónicos & varios, encuentros en colegios, ventas a compañías y universidades

Asesor Inmobiliario
Inmobiliaria Paseo España y Abogados E.U
February 2013 a September 2013
Sector Norte.
Cargo ocupado: ASESOR INMOBILIARIO.
Principalmente en la vente y arrendamientos de apartamentos, oficinas, casas, lotes, fincas, mas captación de inmuebles.

Education
Marketing Digital
U Spain
May 2016 a Currently studying
Tecnico en operaciones comerciales
Sena
February 2011 a October 2013
IT skills
Dylantvr@gmail.com
Advanced
More Dylan
Career Goals
Soy una persona organizada que cumple con las labores y requerimientos que se le exigen, capaz de liderar y solucionar problemas rápidamente. Poseo valores como la responsabilidad y el trabajo en equipo. Me considero una persona con una alta facilidad de absorber conocimientos teóricos y prácticos, tengo facilidades para la comunicación y la atención al usuario. Excelente presentación y colaborador en mi equipo de trabajo, versátil y entusiasta al momento de laborar, con practica en varios campo
Industries of interest
Real estate
Areas of interest
Commercial / Sales
Availability to travel and work outside the city
Yes
Interests and hobbies

Curso administración de empresas (Sena virtual), Ingles 2ª (SENA VIRTUAL), Marketing digital U Spain.
Deportes Hobbies: Futbol, Cartas, Billar, Ciclismo, Ajedrez.