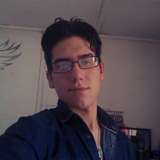 Dylan
Vasquez
Empaque y Vendedor in Preunic
concepcion
,
Bío-Bío
,
Chile
Education:
Enseñanza media completa
Job Experience
Empaque y Vendedor
Preunic
November 2016 a January 2017
Al igual que mi trabajo anterior, e realizado trabajos de empaque y vendedor, lo cual me da un poco mas de experiencia sobre el rubro de las ventas.
Empaque y vendedor
Village
December 2011 a February 2012
Trabajo fue solo por temporada de verano, mi puesto era de empaque y envolver regalos pero cuando hacia falta personal también realizaba trabajos de vendedor, lo cual me dio la suficiente experiencia en ventas.
Education
Enseñanza media completa
Juan Gregorio las heras
March 2007 a November 2015
More Dylan
Career Goals
Soy un joven de buena presencia con muchas ganas de trabajar, entusiasta, responsable, puntual, sociable, amable.
Una de las razones por las cuales deseo trabajar no es tanto por querer ganar dinero para comprar cosa para mi persona,
si no que por el momento no estoy pasando por una buena situación económica por lo cual me urge un empleo lo antes posible,
no poseo una gran experiencia laboral pero aprendo rápido y le pongo el 100% a lo aprendido con el fin de cada día ser mejor
Industries of interest
Trade
Areas of interest
Commercial / Sales
Availability to travel and work outside the city
No
Interests and hobbies
uno de mis mas importantes intereses es adquirir mayor experiencia en todo tipo de trabajos, aprender de ellos y ser mejor en cada trabajo aprendido.
mis hobbies son dibujar, hacer ejercicio y realizar trabajos manuales.