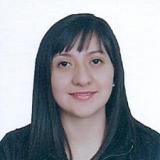 Dyssamiz Valeria
Garnica
Trabajadora Social in HOGAR SAN JOSE
Buenos Aires
,
Ciudad Autónoma de Buenos Aires
,
Argentina
Past:
Hogar Maria del Rosario de San Nicolas
Education:
Magíster en Problemáticas Sociales Infanto Juveniles
Job Experience
Trabajadora Social
HOGAR SAN JOSE
December 2014 a June 2015
Tramite de beneficios de las jóvenes residentes en el Hogar, realización de informes mensuales y bimestrales, tanto de las jóvenes como del funcionamiento y gestión interna del Hogar. Acompañamientos a terapias psiquiátricas y psicológicas. Comunicación telefónica, personal y escrita con centros zonales, locales y juzgados donde se llevan los procesos de las adolescentes. Entrevistas de seguimiento, contención e intervención en crisi
Operadora Psico Social
Hogar Maria del Rosario de San Nicolas
December 2014 a Actually working here
Contención afectiva y emocional, cuidado y orientación a niñas y adolescentes con problemáticas de abuso sexual, maltrato, abandono y marginalidad.
Asistente Administrativa
Restaurante Bar Gato Verde
November 2013 a March 2014
- Atención al público.
- Camarera.
- Supervisora del personal.
- Apoyo a la logística del establecimiento

Asistente Administrativa
Vivicon S.A
January 2013 a October 2013
- Asesora de ventas.
- Manejo y organización de archivo.
- Atención al público personal y telefónicamente.
- Entrega de apartamentos.

Practicante Trabajo Social
Instituto Colombiano de Bienestar Familiar ICBF
February 2011 a March 2012
- Apoyo en la intervención y acompañamiento al equipo Psicosocial del Área de Protección, Área de Asuntos no Conciliables, donde se manejan temas de abuso sexual, violencia intrafamiliar, consumo de sustancias psicoactivas; su objetivo es garantizar el restablecimiento de derechos de niños, niñas y adolescentes de la localidad.
Education
Magíster en Problemáticas Sociales Infanto Juveniles
Universidad de Buenos Aires
(Argentina)
March 2015 a Currently studying
Curso Pedagogía Humano
Servicio Nacional de Aprendizaje - SENA
(Colombia)
May 2013 a June 2013
Administración de Recursos Humanos
SENA
(Colombia)
January 2012 a February 2012
Trabajadora Social
Corporacion Universitaria Republicana
(Colombia)
February 2008 a June 2013
Bachiller Academico
Gimnasio Monseñor Manuel Maria Camargo
(Colombia)
January 2001 a December 2006
Other Skills
Respetuosa
Capacidad para la resolución de conflictos
Se escuchar a los demás
Creativa
Responsable
Puntual
Organizada
Buena comunicación
Trabajo en equipo
Liderazgo
More Dyssamiz Valeria
Career Goals
Ofrecer atención a los clientes en donde se cumplan sus necesidades y se preste atención y resolución a sus problemas e inconvenientes
Industries of interest
Areas of interest
Availability to travel and work outside the city
Yes
Interests and hobbies
Leer, ver peliculas, jugar voleyball, ver partidos de futbol.