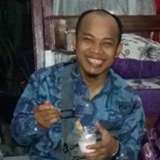 Dzul
Ar-Riauwiy
Staff Administration in Associate Student of Indonesia
Pekanbaru
,
Riau
,
Indonesia
Current:
Associate Student of Indonesia
Education:
Arabic language education
Job Experience
Staff Administration
Associate Student of Indonesia
March 2011 a Actually working here
My Name is Julherman. I am the second of seven children. Born on June 06, 1990. I live with my sister. I have graduated from Sultan Syarif Kasim Riau State Islamic University
Personally I am quite disciplined, hardworking, very appreciative of others especially to older people. I also always be nice and cheap smile. In my spare time I like to discuss, read, browse and gather with friends. I like listening to religious lectures. I also like to buy stuff online.
In every person must have shortcomings as well as with me, sometimes I am easily angry, a little quiet and shy. If angry facial expression I always look clear. I do not like people who are arrogant and lie, because I think honest and humble is the most basic thing to be a better person. I prefer to spend time at home than outside without any clear activity. I also prefer to have some good friends compared to having many bad friends in the sense of bringing bad things.

I think family is everything, because they are always encouraging and always support me with positive activities. I am always grateful for what God gives in my life. The thing I always want to do is make my parents happy by making them proud and able to be useful to others.
Education
Arabic language education
State Islamic University Sultan Syarif Kasim of Riau
Currently studying
Languages
Arabic
Bilingual / Native
Other Skills
Leadership,Team Work, Administration
More Dzul
Career Goals
Supervisor, Teacher and Administration
Industries of interest
Areas of interest
Availability to travel and work outside the city
Yes
Interests and hobbies