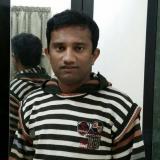 Easwaramoorthy
Chokkalingam
Engineer - Electrical in Galfar Engineering & Contracting S.A.O.G, Oman
Current:

Galfar Engineering & Contracting S.A.O.G, Oman

Past:

Regen PowerTech Pvt Ltd, chennai

Education:

Diploma in Electrical and Electronics Engineering
https://profiles.jobomas.com/easwaramooorthy.chokkalingam
Job Experience
Engineer - Electrical
Galfar Engineering & Contracting S.A.O.G, Oman
April 2014 to Actually working here
Project Details: Al Ghubrah Independent Water Project, Muscat city.
Job Responsibilities: As Engineer Electrical, responsible for the Site Coordination, all Electrical equipments Installation, Testing & Commissioning for the Lighting & Small Power and HVAC equipments. Material recalculation and Preparation of as built drawings.

Senior Engineer - Electrical
Regen PowerTech Pvt Ltd, chennai
March 2011 to April 2014
Handling project activities, involving work out various requirements related to Unit Substations (HT Switch Yard) and Overhead lines installation & commissioning activities for ensuring timely completion.
Erection, Testing & Commissioning of 33/0.62KV Substation Transformer, 33KV Vacuum Circuit breaker, 33KV CT & PT, 33KV control &relay panels, 690V 500sq.mm power cable and 33KV switchgears.

Assistant Engineer - Electrical
Servalakshmi Paper Limited
December 2008 to March 2011
Installation & Commissioning and Operation & Maintenance of 300Ton Paper plant systems.
Installation & Commissioning and Operation & Maintenance of 15MW STG Power Plant Systems.
Installation & Commissioning and Operation & Maintenance of 110KV/11KV Substation.
Junior Engineer - Electrical
Suzlon Energy Limited
December 2005 to December 2008
Unit Substation 33/0.69KV material BOM checking & inspection.
Cable laying & termination in Unit Substation panels, motors and drives.
Installing software and troubleshooting the control panel Relay?s PLC.
Inspection and checking of 1500KVA, 1750KVA Transformer, VCB, CT, PT, Switchgears and their functionality in before commissioning.
Testing of Transformers, VCB, CT, PT, Isolators.
Pre-commissioning and Commissioning of Unit Substation total systems.
Electrical Maintenance Engineer
Tata Teleservices Limited
October 2004 to September 2005
Operation and Maintenance of Tele power communication station, total Electrical systems troubleshooting & problem solving (i.e., Generators, Network system).
CAD Draftsman
WTI Advanced Technology Limited
June 2003 to September 2004
To convert the Tele communication object which are the raster format into electronic data. Front end software AutoCAD 2000, 2004. Back end software VBA Oracle, XML.
Education
Diploma in Electrical and Electronics Engineering
STATE BOARD OF TECHNICAL EDUCATION, Tamilnadu
Currently studying
IT skills
MS Office alll tools
Experto
Other Skills
Procurement
Teamwork and Co-Ordination with all discipline
Design Coordination
Interaction and joint inspection with client and consultant
HSE Management
Review & Preparation of purchase Specifications as per contracts
Contract Management
QA/QC activities
EPC work
Review of Engineering Documents
Operation & Maintenance of any type of plants
Preparation of Methodology and detailed Drawings
Project Management (Any type Projects)
Planning
Operation & Maintenance
Project Management
Project Engineer
Teamwork
Leadership
More Easwaramoorthy
Career Goals
An Engineer, Well Organised, Self Motivated, Reliable and Technically astute Engineering Professional with more than 11 Years of extensive Experience in Electrical field with Engineering, Site Working & Coordination, Project Management, Maintenance, Cost estimation, EPC Projects with Reliability Testing including Handing Over.
Worked various Projects like Oil & Gas, Thermal Power Plant, Paper Plant, Desalination Plants, EHV Substations, Transmission Lines and well conversant with system requirements and international standards like BS, IEC, IEE, ASTM, ANSI, ISO, NEC, 11EI, NEPA 70 standards.
I am accustomed to working within strict contractual cost, time restraints & have the ability to motivate and direct a multi national workforce to meet the objectives by effective communication to all levels of the organisation, whilst ensuring that the Quality and Safety of the works are maintained throughout.

Availability to travel and work outside the city
Yes