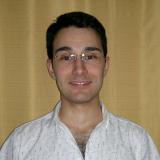 Eber
Malizia-Ingeniero Junior
Ingeniero Electromecánico in Jose Cartellone C.C.S.A
San Rafael
,
Mendoza
,
Argentina
Current:

Jose Cartellone C.C.S.A

Past:

Amsat

Education:

Ingeniero Electromecánico
https://profiles.jobomas.com/eber.malizia
Job Experience
Ingeniero Electromecánico
Jose Cartellone C.C.S.A
May 2018 to Actually working here
Ingeniero Electromecánico, planificación y mantenimiento de equipos....................................
Servicio postventa
Amsat
April 2017 to January 2018
Servicio posventa en concesionario oficial Chevrolet. Diagnóstico automotriz, electricidad, etc....
Pasante
Hinisa-Hidisa de Pampa Energía SA
October 2013 to January 2014
.
Mecánico Gral.
Taller Mecánico
January 2006 to March 2017
Mantenimiento y reparación automotriz, socio/empleado.................................................
Education
Ingeniero Electromecánico
Universidad Tecnológica Nacional
(Argentina)
January 2007 to July 2014
Educación Polimodal, Modalidad Economía y Gestión de las Organizaciones
República del Perú, n° 4-098
(Argentina)
March 2002 to December 2006
IT skills
AutoCAD Electrical, Autodesk Inventor, AutoCAD, MathCAD, Office
Advanced
Other Skills
Mantenimiento Hospitalario (304/09-D FRSR)
JoseII, por la AArEII - Asociación Argentina de Estudiantes de Ingeniería Industrial y carreras afines
Actualización Técnica y Reglamentaria sobre Seguridad Eléctrica (Zoloda S.A.)
Capacitación en Ingeniería de Presas, organizado por ORSEP y Universidad de Tres de Febrero
More Eber
Career Goals
Ingeniero electromecánico, profesional, y versátil. Dispuesto a capacitarme, con objetivos de estar al nivel de las exigencias, y ávido a nuevas experiencias para la solución creativa de problemas.
Availability to travel and work outside the city
Yes