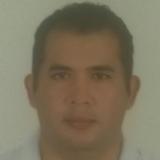 'Eduar
Riivera
Conductor de volteo in Particular
Acayucan
,
Veracruz Llave
,
Mexico
Job Experience
Conductor de volteo
Particular
January 2014 to January 2015
Conductor de un vehiculo de 14m3 en el cual transportaba material de rebestimiento, gravilla, asfalto y otros.
Vendedor Junior
Bimbo, S.A. de C.V.
April 2010 to September 2013
Responsable de la atencion y servicio de una ruta de 150 clientes semanala o bisemanal, asi como de checar existencia, acomodo, limpieza y caducidad en exibhidores. Arqueo y liquidacion al final de la ruta, asi como subir al sistema el pedido de la siguiente visita al sector.
Vendedor, prevendedor
CERVEZAS CUAUHTEMOC MOCTEZUNA
August 2003 to August 2009
Mi labor consistia en la atencion de una ruta de 200 clientes semananles, checar existencias y proponer cantidad de compra, asi como de subir al sistema mis avances diarios en la PC. Cumplir con mi cuota mensual al 100% en volumen, clientes con compra, efectividad de visita y frecuencia de visita.
Education
Bachillerato
Tele Bachillerato San Juan Evangelista, Veracruz
Currently studying
Other Skills
Servicio al Cliente, Trabajo en equipo, adaptacion ala cambio, inventarios fisicos, control de credito y cobranzza, responsabl de rutas de 200 cliente
More 'Eduar
Career Goals
Estabilidad, permanencia y buen ambiente laboral
Industries of interest
Areas of interest
Availability to travel and work outside the city
Yes
Interests and hobbies