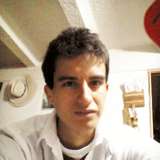 Eric
Santana Vasquez
Analista de TI in EventosB
Santiago
,
Metropolitana
,
Chile
Education:
Superior de Tecnología en Procesamientos de Datos
Job Experience
Analista de TI
EventosB
March 2019 to November 2019
Analista de Sistemas, Analista Programador, Analista de Datos, Diseñador gráfico, Help Desk, y soporte interno a la producción y al marketing.
Analista de Sistemas y Marketing Digital Senior
QTime ltda
April 2017 to February 2018
Criar y optimizar campañas web en Adwords, analise de página y campañas de marketing digital en Google Analytics, SEO y desarrollo de sistemas web en Wordpress y también en c# integrado a sistema de pagos Transbank.
Analista de Marketing Digital
Araya & Cía Abogados
May 2016 to September 2016
ACTIVIDADES EJERCIDAS: e-Business Intelligence; Informe de Rendimiento de las Paginas Web; Campañas Online de publicidad, SEO; Creación y monitoreo de Publicidad en la Red de Google (adwords), Monitoreo y Marketing en Redes Sociales, Levantamiento de KPI?s.
Páginas del Grupo: Araya y Cia (http://www.araya.cl/), Actiagro (http://actiagro.cl/), Greenland (http://www.greenlandchile.com), Exportax (http://exportax.cl/), ArayaArc (http://www.arayarc.cl/).

Analista de Sistemas
Itau Unibanco Holding S/A
June 2012 to September 2013
Gerenciamiento de Proyectos, Análisis de Eficiencia, Dibujo de Software, Reducción de Procesamiento en Programas, Análisis de Requisitos, Levantamiento de Datos, BI, Testes Integrado entre Sistemas; Homologación e Implementación de Software, Programación Cobol .
PROYECTOS: Registro Positivo (4000 horas), Renavan 12 dígitos (5000 horas), Subsidio Finame (4000 horas), Susep (500 horas), TRC Persona Jurídica (500 horas)

Analista de BI
Dp6
September 2009 to August 2011
Análisis de e-BI y Campañas Online, Creación de base de datos en Excel, Automatización de Informes, Validación de tag de Web Analytics; Creación y monitoreo de Enlaces Patrocinados, Levantamiento de KPI?s.
CLIENTES DE BI: Microsoft (CRM, Hotmail, Windows 7, IE9, MSN, ILM), Philips, Boehringer (Anador, Buscofem y Pharmaton), MaxHaus, Trakinas, Troller.

Education
Superior de Tecnología en Procesamientos de Datos
Faculdade de Tecnologia de São Paulo (brasil)
January 2007 to July 2011
Tecnico en Informatica
ETE Camargo Aranha - SP - Brasil
January 2005 to July 2006
Languages
Portuguese
Bilingual / Native
Español
Bilingual / Native
IT skills
HTML5 CSS3 PHP VB
Advanced
SEO, Google Analytics, Adwords
Experto
More Eric
Career Goals
Industries of interest
Areas of interest
Availability to travel and work outside the city
No
Interests and hobbies