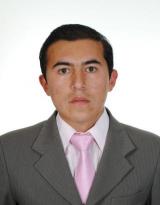 SAAMIN FERNANDO
ARIAS PACANCHIQUE
AUXILIAR CONTABLE in KNOWLINE EPSRM SAS
Current:

KNOWLINE EPSRM SAS

Past:

AGROINDUSTRIA DEL RIO SAS

Education:

CONTADOR PÚBLICO
https://profiles.jobomas.com/ferchofer_54
Job Experience
AUXILIAR CONTABLE
KNOWLINE EPSRM SAS
May 2013 to August 2014
Las funciones destinadas en el cargo en cuanto labor comercial son el de servicio al cliente, visitas a los clientes en su respectivo establecimiento, muestra y explicación de los productos y servicios que ofrece la compañía;en cuanto labor cantable archivo de soportes y registro contable de las ventas. Cumplimiento de proyecciones al reconocer y aplicar el respeto, compromiso, actitud y responsabilidad como valores primordiales para el mejor desempeño y éxito en mi vida laboral y académica.
AUXILIAR ADMINISTRATIVO
AGROINDUSTRIA DEL RIO SAS
January 2013 to May 2013
Recibir, registrar y archivar la información, ademas del ingreso de la producción, comercialización y ventas de la compañía. Manejo de pedidos por ordenes según clientes para la respectiva elaboración y despacho del mismo.
AUXILIAR ADMINISTRATIVO
CLAVELES DE TOCA SAS
December 2008 to January 2013
A través del tiempo laborado en esta empresa, he podido conseguir logros importantes tanto para mi vida personal, como también en mi vida profesional. Empezando en adquirir y consolidar experiencia en el trabajo en equipo, igualmente la capacidad de cumplir con las metas y proyecciones individuales en función al cargo: identificación de producción y clasificación, esto para las estimaciones de ventas y comercialización según requerimientos de clientes,almacenamiento y análisis de ventas a diario
ADMINISTRADOR
PAPELERIA E INTERNET LUISANED
December 2007 to November 2008
En esta establecimiento comercial desempeñe labores, como administrador y en la atención al público o servicio al público.
Education
CONTADOR PÚBLICO
FUNDACIÓN UNIVERSITARIA JUAN DE CASTELLANOS
(Colombia)
January 2011 to Currently studying
TÉCNICO LABORAL EN DESÑO,A ANÁLISIS Y PROGRAMACIÓN DE SISTEMAS
INSTITUTO CENIS DE COLOMBIA
(Colombia)
January 2008 to December 2009
IT skills
Sistema contable SIIGO
Medium
MANEJO DE SISTEMA JER Y SUPER JIROS.
Medium
Other Skills
DANZA FOLCLOR COLOMBIANO integrante grupo FAMA FOLCLOR COLOMBIANO
MANEJO DE SISTEMA JER Y SUPER JIROS.
More SAAMIN FERNANDO
Career Goals
Auxiliar contable y contabilidad, Auxiliar administrativo, Asesor comercial
Industries of interest
Banking / Finance
Areas of interest
Administration, Finances, Acountancy, Banking
Availability to travel and work outside the city
No