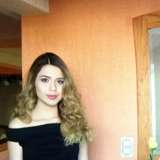 Daena
Galindo
Psicologa Educativa in Educacion Inicial CONAFE
Tlajomulco de zuñiga
,
Jalisco
,
Mexico
Current:

Educacion Inicial CONAFE

Past:

Centro de Atencion Infantil Mi Club

Education:

Lic. Psicopedagogia
https://profiles.jobomas.com/galindodaena92
Job Experience
Psicologa Educativa
Educacion Inicial CONAFE
November 2016 to April 2017
Terapias de lenguaje y aprendizaje para niños de 2- 4 años, platicas y conferencias con padres de familia con diversos temas educativos, sesiones con las promotoras para la capacitacion.
Coordinadora de Pedagogia
Centro de Atencion Infantil Mi Club
June 2015 to September 2016
Apoyo a niños con problemas de lenguaje y aprendizaje.
Planeaciones
Actividades para cursos de verano
Psicologia educativa
Control de personal femenino
Estilista peinados
Balkiria Spa
April 2015 to December 2015
Elaboracion de peinados para xv años, novias, etc. Aplicacion de tintes, manejo de caja chica, pedicure.
Maestra de Preescolar
Colegio mundo bilingue
January 2015 to June 2015
A cargo del grupo de segundo y tercero de preescolar elaboracion de material didactico y planeaciones.
Auxiliar Administrativo
RJ machine
September 2014 to December 2014
Manejo de nominas, facturas, agenda, llamadas, coordinacion de juntas; manejo de caja chica y de inventario.
Educadora Vida Social
Instituto Down de Chihuahua
August 2014 to December 2015
Elaboracion de planeaciones, impartiendo clases de vida social para los alumnos puedan ser autonomos y puedan generar ingresos en algun empleo. Aplicacion de nuevas estrategias educativas para favorecer el aprendizaje.
Auxiliar administrativo
Importaciones del norte
January 2014 to June 2015
Manejo de caja, facturas, inventario en la mercancia, proveedores, promotorias, atencion al cliente.
Education
Lic. Psicopedagogia
Claustro Universitario de Chihuahua
(México)
August 2013 to December 2015
Languages
More Daena
Availability to travel and work outside the city
No