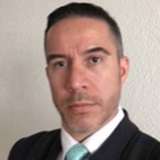 J Edward
Herrera
National PMO in PROSA
ciudad de mexico
,
Ciudad de México
,
Mexico
Past:
INTRALINKS GLOBAL ENTERPRISE SERVICES
Education:
Lic. En Administracion de empresas
Job Experience
National PMO
PROSA
April 2014 to Actually working here
Administro y doy seguimiento a la creación, dirección y control de recursos a los planes de trabajo para los bancos socios.
Monitoreo puntualmente los temas pendientes, para asegurar que los Proyectos se mantengan en curso programado, evitando desviaciones de tiempo y costo.
Gestiono reuniones y comunicados con las areas involucradas para colectivamente alcanzarlas metas del negocio con enfoque a digitalización de las herramientas existentes y/o nuevas aplicaciones.
Realizo análisis estadístist
Gerente de Proyectos LATAM
INTRALINKS GLOBAL ENTERPRISE SERVICES
March 2010 to April 2014
Colabore y valide soluciones y propuestas desarrolladas por el equipo de pre-ventas en latino América.
Tome nuevos proyectos y consulte con clientes en el mejor uso de la herramienta de Intralinks, desarrollando y documentando los planes apropiados para cada uno de los proyectos.
Maneje, implemente y sobrelleve todas las actividades de los proyectos con enfoque a tiempos de entrega y medición de riesgos.
Tome responsabilidad de los proyectos, anticipando las reacciones o crisis del cliente.
Gerente de Negocios Regional
FIDELITY INFORMATION SERVICES
March 2009 to March 2010
Trabaje con los usuarios (Clientes) y personal de tecnología de la información para crear requerimientos del negocio, basado en requerimientos simples y complejos para la mejora de sistemas existentes o crear requerimientos del negocio para aplicaciones nuevas.
Trabaje en la creacion de planes de pruebas y realice pruebas para cambios en las aplicaciones del programa, actualizaciones o nuevos productos.
Servi como punto de contacto entre los clientes de Fidelity y programadores, en referencia
Education
Lic. En Administracion de empresas
Hunter College of NY
June 1992 to June 1996
Languages
Inglés
Bilingual / Native
More J Edward
Career Goals
Industries of interest
Areas of interest
Availability to travel and work outside the city
No
Interests and hobbies