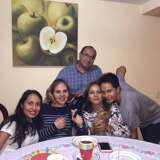 J Gerardo
Gonzalez Trejo
Contador General in Cbtis 145 Venustiano Carranza
San Juan del Rio.
,
Queretaro de Arteaga
,
Mexico
Current:
Cbtis 145 Venustiano Carranza
Past:
Grupo Papelero Scribe, S.A. de C.V.
Education:
Licenciado en Contaduria Publica
Job Experience
Contador General
Cbtis 145 Venustiano Carranza
February 2014 a Actually working here
Conciliaciones Bancarias, Poliza de ingresos, egresos, cuentas por pagar, comprea de materiales y activos fijos, implementacion de procedimientos de control interno, fljo de efectivo, cash flow, etc.
Contador General
Grupo Papelero Scribe, S.A. de C.V.
January 2007 a Actually working here
Supervisar y controlar las operaciones del area de Caja, Cuentas por Pagar y Contabilidad General, asi como interactuar y administracion directa e indirecta con las areas de Compras y los Almacenes varios de la planta, apoyo directo al area de costoes en procesos mensuales y anuales, presupuesto, inventarios y de control interno.
Education
Licenciado en Contaduria Publica
Universidad Autonoma de Queretaro.
(México)
July 1985 a January 1990
IT skills
AS400, BPCS, SAP, Y OFICE.
Medium
Other Skills
Certificacion como Auditor ISO 9001 2001 Y 2008
More J Gerardo
Career Goals
Integrarme a una empresa a nivel gerencial, cumpliendo las metas establecidas dia con dia en base a mi experiencia, siendo proactivo, organiado, trabajando en equipo, con mejora continua, propiciando buen ambiente de trabajo, motivando al personal subordinado en base a un liderago soportado con el ejemplo mismo.
Industries of interest
Education
Areas of interest
Administration, Finances, Acountancy, Banking
Availability to travel and work outside the city
Yes
Interests and hobbies
Lectura, ejercicio y vacaciones con la familia.