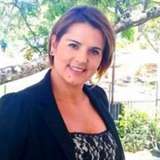 22477563
Vallejo Jimenez
Directora de Servicios in ADMINISTRACIONES HUMBERTO GOMEZ
cali
,
Valle del Cauca
,
Colombia
Current:

ADMINISTRACIONES HUMBERTO GOMEZ

Past:

Caja de Compensación compensar

Education:

Mercadologa y Publicista
https://profiles.jobomas.com/julivallejojimenez
Job Experience
Directora de Servicios
ADMINISTRACIONES HUMBERTO GOMEZ
August 2014 to May 2015
Coordinar y acompañar los procesos administrativos y de servicio al cliente, aperturar nuevos mercados
Asesora de ventas y acompañamiento al cliente
Caja de Compensación compensar
May 2007 to February 2014
Acompañar y consolidar la relación con el cliente, sector químico farmaceutico, eventos, logistica, planes de bienestar
Directora General
JARDINES DE LA ESPERANZA - CASA DE FUNERALES LA PIEDAD
May 2005 to May 2006
Dirigir y coordinar los procesos administrativos y comerciales, proyección y planes de mercadeo y apoyar los equipos comerciales, de servicios individuales y corporativos, servicio al cliente.
Supervisora Canal autoservicios
Alimentos corona s.a
March 2004 to November 2004
Coordinar y dar seguimiento a todas las actividades comerciales y de relacionamiento con el cliente con el equipo de ventas. Merchandising, eventos,impulso comercial, estrategias de fidelizacion en los puntos de venta y distribuidores.
Asesora Comercial
Condicom Colombia
January 2003 to March 2004
Apertura del mercado en el sector industrial e institucional de alimentos, venta y construccion de relaciones con los clientes.
Education
Mercadologa y Publicista
Politécnico Grancolombiano
Currently studying
Esp. Innovacion y Desarrollo de negocios
Universidad Externado de Colombia
Currently studying
Computing
Word,excel, powerpoint
Basic
Other Skills
Liderazgo,trabajo en equipo, determinación, resolutividad, constancia, pasion
More 22477563
Career Goals
Cumplir mis expectativas profesionales desempeñándome en labores que me apasioinan asi como lasventas
Availability to travel and work outside the city
No