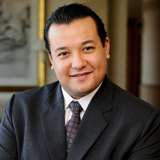 Kadry
El Gnedy
Sharm Plaza in Sharm Plaza Hotel
Dubai
,
Dubai
,
Emiratos Árabes Unidos
Current:

Sharm Plaza Hotel

Education:

Tourism and Hotels
https://profiles.jobomas.com/kadry_yehia
Job Experience
Sharm Plaza
Sharm Plaza Hotel
October 2015 to May 2016
Assistant Front Office Manager
- Monitor cleanliness and repair of Lobby, Front Desk and Back Office areas.
- Ensure room?s revenue is accounted for by monitoring departures report and the staff are following correct credit procedures on day of departure and nightly credit check.
- Effectively communicate any relevant information via shift handover, log books, guest history, traces and by attending the regular Shift Leaders meetings.
- Ensures GSA?s have balanced their work prior to their departure and assist them where needed.
- Reports any potential credit risks immediately to Front Office Manager or Credit Manager.
- Ensures there is sufficient supply of stationary and hotel keys.
- Carries out room inspections to assist in maintaining a high standard of guest room cleanliness.
- Assist with the co-ordination of the day to day operations of the Reception Desk according to Front Office Standards and Procedures.
- Review all in-house accounts to ensure correct room rates are charged.
- Encourage selling of Hotel outlets and facilities.
- Effectively deal with guest problems and complaints immediately.
- Attend meetings as required.
- Ensure that all associates comply with the grooming and hygiene standards.
- Assist with development and performance reviews, identifying key personnel for further development.
- Assist with the implementation and maintenance of training systems to ensure that associates have the necessary framework and skills to perform their job efficiently and effectively.
- Prepare work schedules and annual leave schedules within budget, business expectations and guidelines of the appropriate industrial legislation.
- Participate in the selection and appointment of new associates within the department.
- To ensure CID system is updated with all arrivals and departures
- Act as Welcome Ambassador as Arrival Experience
- Meet & greet all VIP arrivals and escort to their room
- Meet & greet all VIP departures as well as Service Recovery Guest
- Support and mentor FO Supervisor
- Warm & friendly welcome during check-in, The Front Desk Staff being helpful, Problem Resolution during the Stay
- Ensure to have full control and training on evacuation, fire or any other crises situation
- Expert on crises management
- Achieve property Quality Assurance goals.
- Ensure Master Arrival Report is utilized daily to deliver expectations.
- Conduct regular staff meetings/briefings to keep all associates informed.
- Ensure compliance with legislated health and safety requirements within the workplace.
- Comply with all Corporate and Hotel Standards and Procedures.
- Actively promote a work environment, which cares for guests and associates alike.

Education
Tourism and Hotels
Alexandria University
Currently studying
Languages
IT skills
More Kadry
Availability to travel and work outside the city
No