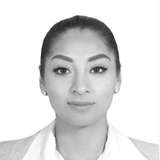 L.N. Karen
Monroy
Asesor Nutricional in NEOVITA
Atlacomulco
,
Estado de México
,
Mexico
Past:
JAGUSA S. A. DE C. V.
Job Experience
Asesor Nutricional
NEOVITA
September 2016 a November 2016
Explicación e interpretación de laboratorios (QS, BH, EGO, etc). Tratamiento Nutricio. Manejo de Suplementos naturistas de acuerdo a patología.
Administrador/ Supervisor de Comedor en Hospital
JAGUSA S. A. DE C. V.
May 2015 a September 2016
NOM 251. Manejo Higiénico de los Alimentos. NMX F605 Distintivo H.
Realización de requisiciones.
Manejo de inventarios de materia prima e inmobiliario.
Supervisión del servicio de alimentos, preparación de alimentos, ensamblaje de charolas, puntualidad en el servicio, gramaje y porciones según licitación con ISEM, etc.
Manteniendo de costos y estándares de calidad.
Atención de quejas y solución de problemas inmediata.
Planeación y mejora de menú.
Funciones administrativas.
Supervisión de persona
Catedratico
UNIVERSIDAD VALLE DE ANAHUAC
January 2015 a June 2015
Catedrática de las materias de Dietética y Dietocálculo. Profesora frente a grupo. Realización de software de dietocálculo.
Education
LIC. NUTRICION
UNIVERSIDAD DE IXTLAHUACA CUI
(México)
August 2009 a July 2013
IT skills
Paqueteria de Office
Medium
Other Skills
Curso Manejo Higiénico y preparación de los alimentos. SECTUR/ STPS
More L.N. Karen
Career Goals
Industries of interest
Food and Beverage
Areas of interest
Availability to travel and work outside the city
Yes
Interests and hobbies
Hacer ejercicio, leer.