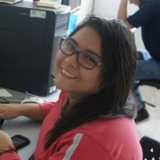 L Michelle
Girón
Pasante como programador android in Korinver
Ilopango
,
San Salvador
,
El Salvador
Past:
Web Informatica S.A. De C.V.
Education:
Tecnico en Ingenieria en ciencias de la computación
Job Experience
Pasante como programador android
Korinver
May 2015 to September 2015
Aprendizaje de creación de aplicaciones web para Android en el entorno de Android Studios, creación de una app de prueba llamada ?vacsys?
Junior Deeveloper y Maquetadora
Web Informatica S.A. De C.V.
June 2014 to October 2014
Edición y creación de manuales de usuarios que detallaban el control de flujo de datos y código para la aplicación de procesamiento de solicitudes de la empresa FONDEPRO, Ministerio de Economía y USSAID en ADO. Net Entity Frameworks; Soporte en ingreso de documentos en el gestor de contenidos de internet del Sistema de Integración Centroamericana (SICA) en tiempo real al portal del sitio; Creación de manual de usuario, inicio de maquetación del Home del sitio ?Vivo Positivo? en CSS3, HTML5.
Soporte tecnico y de redes
Alcaldia Municipal de Santa Tecla
January 2014 to May 2014
Soporte Técnico, instalación de redes y equipos, inventario de equipos existentes en toda la organización de Santa Tecla, orden y limpieza de cables, apoyo en Centros de Información
Education
Tecnico en Ingenieria en ciencias de la computación
Universidad Don Bosco
Currently studying
IT skills
-Dreamweaver: Curso de Verano 2007 -Taller de Autosuficiencia Laboral 2009 Experiencia en TI?S (tecnologías de Información y Comunicación) -Comerci
Advanced
Other Skills
Liderazgo, creatividad, facilidad de comunicación
More L Michelle
Career Goals
Aprender y esforzarme a medida que estoy superandome tanto en mi area laboral, profesional y personal
Industries of interest
Areas of interest
Availability to travel and work outside the city
Yes
Interests and hobbies