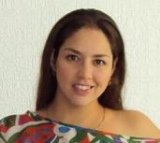 .LERIDA YAJAIRA BRENEDITZE
AGUIRRE MURILLO
Asistente de Dirección in Shamycol Comercial S.A de C.V
Toluca
,
Estado de México
,
Mexico
Current:
Shamycol Comercial S.A de C.V
Education:
INFORMATICA EMPRESARIAL
Job Experience
Asistente de Dirección
Shamycol Comercial S.A de C.V
May 2011 a July 2012
Manejo de Agenda, investigación de nuevo proovedores, alta de productos, atención a proveedores, atención l cliente, manejo de lista de precios, comparación de precios abastecimiento y traspaso de almacenes en el sistema, captura de ordenes de compra, recepcion de las mismas, solicitar notas de credito, manejo de efectivo, cotizaciones, ventas.

Auxiliar Adminisrativo
LAMCO
May 2009 a January 2011
Manejo de Agenda, cotizaciones, atención a clientes, facturación, capturar los estudios de mecánicas de suelos y algunas compactaciones.

Auxiliar Adminisrativo
SYDTSA
2008 a 2009
Recepcionista, atención al clientes, actividades administrativas.
Education
INFORMATICA EMPRESARIAL
[Otra]COMPUTACION DEL GOLFO
(México)
February 2009 a October 2010
CERTIFICADO
Benemérita Universidad Autónoma de Puebla
(México)
September 1995 a June 1998
IT skills
microsoft oficce, SAE 5.0
Basic
More .LERIDA YAJAIRA BRENEDITZE
Career Goals
DESARROLARME EN UNA EMPRESA SERIA, EN EL QUE TENGA OPORTUNIDAD DE CRECIMIENTO LABORAL Y PODER DEMOSTRAR MIS HABILIDADES EN EL AREA DE ATENCION AL CLIENTE, EN INFORMATICA.
Industries of interest
Construction Industry
Areas of interest
Architecture / Construction
Availability to travel and work outside the city
Yes
Interests and hobbies
"ME GUSTA EL CINE Y CADA QUE TENGO OPORTUNIDAD ME GUSTA NADAR, CAMINAR, PATINAR, JUGAR VOLEY BALL".