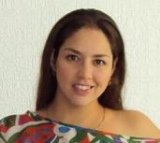 .LERIDA YAJAIRA BRENEDITZE
AGUIRRE MURILLO
Asistente de Dirección in Shamycol Comercial S.A de C.V
Toluca
,
Estado de México
,
Mexico
Current:
Shamycol Comercial S.A de C.V
Education:
INFORMATICA EMPRESARIAL
Job Experience
Asistente de Dirección
Shamycol Comercial S.A de C.V
May 2011 to July 2012
Manejo de Agenda, investigación de nuevo proovedores, alta de productos, atención a proveedores, atención l cliente, manejo de lista de precios, comparación de precios abastecimiento y traspaso de almacenes en el sistema, captura de ordenes de compra, recepcion de las mismas, solicitar notas de credito, manejo de efectivo, cotizaciones, ventas.

Auxiliar Adminisrativo
LAMCO
May 2009 to January 2011
Manejo de Agenda, cotizaciones, atención a clientes, facturación, capturar los estudios de mecánicas de suelos y algunas compactaciones.

Auxiliar Adminisrativo
SYDTSA
2008 to 2009
Recepcionista, atención al clientes, actividades administrativas.
Education
INFORMATICA EMPRESARIAL
[Otra]COMPUTACION DEL GOLFO
(México)
February 2009 to October 2010
CERTIFICADO
Benemérita Universidad Autónoma de Puebla
(México)
September 1995 to June 1998
IT skills
microsoft oficce, SAE 5.0
Basic
More .LERIDA YAJAIRA BRENEDITZE
Career Goals
DESARROLARME EN UNA EMPRESA SERIA, EN EL QUE TENGA OPORTUNIDAD DE CRECIMIENTO LABORAL Y PODER DEMOSTRAR MIS HABILIDADES EN EL AREA DE ATENCION AL CLIENTE, EN INFORMATICA.
Industries of interest
Construction Industry
Areas of interest
Architecture / Construction
Availability to travel and work outside the city
Yes
Interests and hobbies
"ME GUSTA EL CINE Y CADA QUE TENGO OPORTUNIDAD ME GUSTA NADAR, CAMINAR, PATINAR, JUGAR VOLEY BALL".