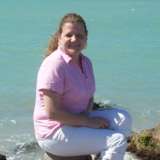 L. Marie
Burbine
Sr. Inside Sales Rep in Vicwest
Stratford
,
Ontario
,
Canada
Education:
Technical Math and Drafting/Estimating
Job Experience
Sr. Inside Sales Rep
Vicwest
August 2009 a April 2016
Handled customer?s inbound and outbound phone calls. Addressed issues, concerns and enquiries related to the industry.
Entered purchase orders received by fax, e-mail and phone calls. I also entered returns, credits, replacements and account information into SAP Database system.
I provided my services to the company through attending trade shows, demonstrations and visits with clientele, generating reports and documents to aid in the industry sales.
I travelled to other company locations throughout Canada to provide training to new staff and upgrading training for current staff with Vicwest. I also created and implemented training manuals and information to assist in improving staff performance
I performed estimates from material lists and blue prints to assist customers determine their requirements and needs.
I communicated inventory requirements and shipping requirements to other departments within the company to improve customer satisfaction.

Education
Technical Math and Drafting/Estimating
Conestoga College
Currently studying
Accounting and Bookkeeping
Toronto School Of Buisness
Currently studying
Computerised Accounting and Bookkeeping
CDI College
Currently studying
Ontario GED
Ontario GED
Currently studying
IT skills
Blue Cross Billing
Advanced
Dejawin Database
Advanced
Microsoft Office
Advanced
More L. Marie
Career Goals
I am looking to obtain a full time position within a company where I can develop a long standing career with.
Industries of interest
Construction Industry
Areas of interest
Health / Pharmacy
Availability to travel and work outside the city
Yes
Interests and hobbies
I like working on vehicle in my spare time. I am also an avid reader. I paint and draw for relaxation. I dabble in photography. I enjoy socializing and meeting new people.