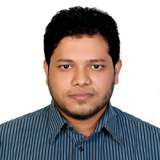 Obaidur Rahman
Imran Khan
Industrial Engineer - Implementation in CSL Software Resources Ltd
Current:
CSL Software Resources Ltd
Job Experience
Industrial Engineer - Implementation
CSL Software Resources Ltd
March 2016 a Actually working here
Working Portfolio:
? Learning and deploying ERP software modules in different level of factories.
? Understanding different levels of MIS reporting and its impact on business process.
? Capturing all garments manufacturing processes.
? Creating standard operating procedure documentation of processes.
? Modules: Merchandising, Procurement, Inventory, Planning, TNA, Commercial.

More Obaidur Rahman
Career Goals
Industries of interest
Areas of interest
Availability to travel and work outside the city
No
Interests and hobbies