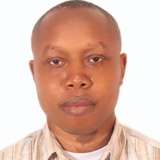 Obanla
Olugbenga Murtada
Sales Manager in Herbalpro Nigeria Ltd
Current:
Herbalpro Nigeria Ltd
Education:
Masters of Business Administration
Job Experience
Sales Manager
Herbalpro Nigeria Ltd
July 2016 to Actually working here
A.Deploy effective direct sales strategies in all relevant channels towards the achievement of the Company?s sales objectives.
b.Identify business opportunities by identifying prospects with the principal aim of enlisting Distributors
c.Review, research and analyze various sales options.
d.Sell products by establishing contact and developing relationships with Distributors and prospects; recommending solutions.
e.Maintain relationships with Distributors by providing support, information, and guidance; researching and recommending new opportunities; recommending profit and service improvements.
f.Identify industry trends, market activities, and competitors.
g.Prepare weekly reports by collecting, analyzing, and summarizing necessary information.
h.Maintain quality service by establishing and enforcing organization standards.
i.Maintain professional and technical knowledge through constant learning; reviewing relevant publications; establishing personal networks; benchmarking state-of-the-art practices; participating in industry activities.
j.Contribute to team effort by accomplishing related results as needed.
k.Meeting and/or exceeding agreed weekly, monthly, quarterly and annual quantitative and qualitative targets.
l.Ensure that the Company suffers no material, financial or reputational losses in the performance of your duties.

Education
Masters of Business Administration
Delta State University, Abrakka Delta State
January 2010 to January 2014
Marketing
Federal Polytechnic, Ilaro Ogun State
January 1999 to January 2002
More Obanla
Career Goals
Industries of interest
Areas of interest
Availability to travel and work outside the city
No
Interests and hobbies