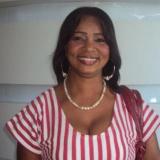 Obdulia Maria
Torres Quintero
Trabajadora Social in CID SALUD IPSI
Riohacha
,
Guajira
,
Colombia
Past:
Fundacion Guajira Naciente
Education:
TRABAJADORA SOCIAL
Job Experience
Trabajadora Social
CID SALUD IPSI
February 2015 a May 2015
Coordinador Pedagogico
Fundacion Guajira Naciente
February 2013 a Actually working here
PROFESIONAL EN TRABAJO SOCIAL
INCODER
October 2009 a June 2010
APOYO PROFESIONAL A LA SUBGERENCIA DE ESTRATEGIA, SENSIBILIZACION SOBRE EL CUIDADO Y PROTECION DEL AGUA A LAS FAMILIAS Y HACENDADOS DE LOS MUNICIPIOS DE BARRANCAS, FONSECA, SANJUAN Y DISTRACCION QUE VIVEN EN LAS RIVERAS DE LA REPRESA DEL RIO RANCHERIA
COGESTOR SOCIAL
DPTO PROSP. SOCIAL NACIONAL
October 2008 a August 2012
Acompañamiento y motivación a 213 familias desplazadas sisbenizadas y de escasos recursos para que movilicen sus propios recursos, sus conocimientos, sus habilidades y sus decisiones para poner en macha planes familiares que permitan articular responsablemente compromisos institucionales, comunitarios y familiares, mejorando asi su calidad de vida.
Education
TRABAJADORA SOCIAL
Universidad de La Guajira
(Colombia)
July 1996 a September 2002
IT skills
INFORMATICA E INTERNET
Basic
Other Skills
LIDER EN REDES DE MENCADEOS
More Obdulia Maria
Career Goals
ME CONSIDERO UNA PERSONA DINAMICA, CREATIVA, CON CAPACIDAD DE ADAPTACION, ACTA PARA LA CONFORMACION Y EL TRABAJO EN EQUIPO, CON PRINCIPIOS SOLIDARIOS Y VALORES ETICOS, Y EN LA DISPOSICIÓN PARA REALIZAR INVESTIGACIONES SOBRE LA REALIDAD SOCIAL DE NUESTRA REGION
Industries of interest
Areas of interest
Availability to travel and work outside the city
No
Interests and hobbies
SOY SEGUIDORA DE CRISTO, ME ENCANTA LLEVAR SIEMPRE UNA VOZ DE ALIENTO A TODO EL QUE LA NECESITA, ME DIVIERTO SANAMENTE, SOY MUY RESPONSABLE CON LO QUE ME ENCOMIENDAN, MI DESEO DE SERVIR ES PERMANENTE.