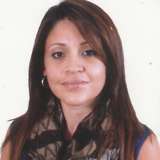 Oyerli
Gonzalez
Gerente de Ventas in Oyestar Inversiones C.A
Current:
Oyestar Inversiones C.A
Education:
Lic. Administración de Empresas
Job Experience
Gerente de Ventas
Oyestar Inversiones C.A
May 2015 a December 2016
Impulsar a la empresa al crecimiento en su cartera de clientes, generar compromiso en los vendedores cumplir los objetivos trazados, seguimiento a la cartera de cobranza entre otras actividades.

Supervisora
LA PALMA REAL, C.A.
July 2011 a May 2015
Garantizar el fiel cumplimiento de las directrices organizacionales, a fin de mantener y promover el crecimiento de la empresa a través de la evaluación, seguimiento y control de las áreas involucradas en los procesos administrativos, logísticos y comerciales.
4 Personas a cargo.

Ejecutiva de Cuentas
FULLER INTERAMERICANA, C.A.
October 2010 a July 2011
Ejecutar los planes de acción propuestos por la Gerencia en materia de captación, retención y comercialización, a fin de cumplir con las metas propuestas en el área de ventas nacionales.

Líder de Área
QUALAVEN, C.A.
October 2007 a July 2010
Diseñar los planes y estrategias de negocios con la intención de consolidar una cartera de clientes que conduzca a la empresa a crecimiento sostenido en el tiempo.
Otros Cargos desempeñados: Vendedor de Cadena Nacional y Vendedor Integral

Education
Lic. Administración de Empresas
Universidad Bicentenaria de Aragua
October 2007 a July 2010
More Oyerli
Career Goals
Contribuir con las potencialidades personales y profesionales para el logro firme de las metas trazadas, que redunden en el beneficio para todos los involucrados tanto en el ámbito personal como gremial.
Industries of interest
Trade Mass Consumption Advertising / Marketing / PR Other
Areas of interest
Executive Management
Availability to travel and work outside the city
No
Interests and hobbies
Lectura, realizar ejercicios fisico, concepto via saludable.