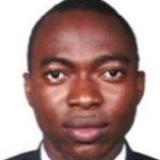 Oyetunji
Oyewo
Accountant in West African Examinations Council
Current:
West African Examinations Council
Past:
United Nations Development Programme
Education:
Business Administration
Job Experience
Accountant
West African Examinations Council
May 2012 a Actually working here
? Prepare, examine, or analyze accounting records or other financial reports to assess accuracy, completeness, and also conformance to reporting procedural standards of the Council.
? Analyze the Council?s operations, trends, costs, revenues, financial commitments and additionally obligations, to project future revenues, expenses or to provide advice.
? Develop, maintain, and also analyze budgets, preparing periodic reports that compare budgeted costs to actual costs ? variance analysis
Finance Associate
United Nations Development Programme
March 2010 a May 2012
? Ensuring the implementation of operational strategies and adapt processes and procedures focusing on achievement of full compliance with UN/UNDP rules and regulations of financial processes, financial records and reports and audit follow up; implementation of the effective internal control framework.
? Presentation of researched information for planning and status of financial resources of the CO.
? Timely preparation of cost-recovery bills in Atlas for the services provided by UNDP
Accountant
Alba Fish Farm Inc
March 2009 a March 2010
? Preparation and maintenance of correspondence, special reports, evaluations and justifications as required on general administrative or specialized tasks that are of confidential nature;
? Performing general administration and office management
? Maintaining the general ledger and the transaction management processes of the company.
? Analyzing business and financial performances.
? Preparation of periodic internal management reports and variance analysis.
? Collating and analyzing inputs
Education
Business Administration
Obafemi Awolowo University, Osun, Nigeria
(Nigeria)
May 2012 a November 2014
Accounting
Olabisi Onabanjo University, Ogun, Nigeria
(Nigeria)
December 2003 a July 2007
IT skills
Atlas Accounting package
Medium
Internet Applications
Advanced
Microsoft Powerpoint
Basic
Other Skills
Excellent Interpersonal relationship
Variance analysis
Reconciliation
Stores Management
Payroll management
Budgeting
Analytical Skill
Team work
More Oyetunji
Career Goals
Adding value to an organization in line with the set goal and objectives.
Industries of interest
Areas of interest
Availability to travel and work outside the city
Yes
Interests and hobbies