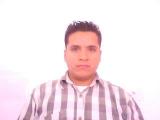 Oziris Edel
Hernandez Ramirez
Supervisor in Grupo Sese Mexico SA de CV
SALAMANCA
,
Guanajuato
,
Mexico
Current:
Grupo Sese Mexico SA de CV
Past:
Grupo MODUS SA de CV
Education:
TSU INFORMATICA
Job Experience
Supervisor
Grupo Sese Mexico SA de CV
April 2013 a Actually working here
Supervisar el Área de Recibo de materiales productivos y auxiliares de la empresa de Volkswagen de la planta de Silao. Recepción , Verificación, Almacenamiento, inventarios, Control de almacén general de los materiales de la planta agregados de Silao Gto.
Asesor Comercial
Grupo MODUS SA de CV
August 2012 a April 2013
Asesor Comercial diseño y desarrollo de proyectos de automatización, ventas de equipo hidráulico y neumático, sensores bombas y equipo industrial. Mantenimiento y reparación de equipo automático.
Jefe de Planta
Super Gas de los Altos SA de CV
August 2006 a August 2013
Trabajo bajo objetivos, Responsable de Activos, Inventarios, Clientes, Evaluación de Desarrollo de personal, Atención a Dependencias Gubernamentales y Revisiones , Auditorias, Responsable del Personal, Logística de operación de la planta y zonas, Compras, Cuentas por cobrar, Bancos, (Depositos de Ventas ) Caja, Responsable de los Supervisores de Zona.
Jefe de Operaciones
Gas Noel SA de CV
October 2002 a August 2006
Responsable de almacenes, Inventarios de las plantas de Gas de Irapuato y Abasolo. Responsable del mantenimiento del equipo de medición de gas de las plantas y la zona de Irapuato y Abasolo. Responsable del área de vigilancia planta Irapuato.
Education
TSU INFORMATICA
UTSOE
(México)
August 1999 a August 2001
Other Skills
Diseño y Desarrollo de Controles
More Oziris Edel
Career Goals
: Trabajar en una empresa que me permita aportar todo mi potencial como todo un profesional, logrando cubrir mas allá de las expectativas esperadas, para alcanzar un éxito juntos y con ello un crecimiento colateral profesionalmente.
Industries of interest
Electronics Information and Research Internet
Areas of interest
Logistics / Transportation / Distribution Quality Purchasing Call Centers / Customer Service
Availability to travel and work outside the city
Yes
Interests and hobbies
Me interesa estar siempre en constante crecimiento buscando una superacion personal integral.