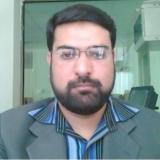 Qaisar Mehmood
Malik
Network Administrator in UN Pakistan & GoP
Current:
UN Pakistan & GoP
Past:
Detecon Al Saudia Co. Ltd, Saudi Arabia
Job Experience
Network Administrator
UN Pakistan & GoP
November 2010 a August 2014
IP MPLS Tech
Detecon Al Saudia Co. Ltd, Saudi Arabia
April 2008 a December 2009
? Attend user?s call and arrange to resolve the problems until closure of the ticket.
? It includes problem identifying, diagnosing, analysis, resolution and final reporting.
? Train users up to required expectations of the organization regarding computerization.
? Perform troubleshooting of client?s software. Install specific software whenever required.
? Learn local procedure/instructions relating to area of responsibility.
? Perform all levels of IP and Transport troubleshooting. Ensures that
IT Coordinator
United Bank Limited, Pakistan
May 2001 a April 2008
? Provides support and management of the local area network within a company. This management involves a number of functions for regular maintenance of the network or LAN and its WAN connectivity.
? Maintaining various computer equipment on the LAN, including but not limited to: Installation and maintenance of PC based networking software and hardware including peripheral equipment; installation of software in end user equipment and providing operational training; and troubleshoot hardware/soft
Education
MBA-MIS
AIOU Islamabad
(Pakistán)
August 1999 a November 2001
Other Skills
Problem Solving
Customer Relations, Office Management
More Qaisar Mehmood
Career Goals
With over a decade of I.T experience in filed and main office having exceptional technical skills. I am currently working on position for I.T domain to be a self-starter, with the ability to achieve results and balance multiple work assignments under minimum supervision with independent role. Always eager to accept challenges as a Team Member.
Industries of interest
Nonprofit Association Banking / Finance International Organization NGO Oil Industry Public Services Technology Telecomunication Other
Areas of interest
Public Relations IT / Technology / Telecommunications General Jobs
Availability to travel and work outside the city
Yes
Interests and hobbies
Book reading, Cricket