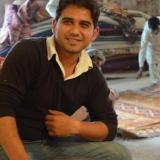 Qasir
Shoaib
as senior accountant and cashier in Khyber weavers international
Current:
Khyber weavers international
Job Experience
as senior accountant and cashier
Khyber weavers international
June 2010 a January 9999
Matter related to Cash:-
1. Maintaining Cash Book Balance and reconciled with head office.
2. Responsible for All Cash Transaction as per Company Policy.
3. Reconciliation of Cash Book and Loan accounts with Head office.
4. Checking the bill of Contractor & their Advances.
5. Complete Record of Cash Payment Voucher and Bank Payment Vouchers.
6. Monthly Comparison of Expense Report.
7. Checking the Vehicle Log Book daily Basis.
Matter Related to Time office department:-
1. Checking payroll and analysis of salaries variance.
2. Maintained the Record of Gratuity and Final Settlement and reconciled with Head Office.
3. Checking of daily / monthly over time reports.
4. Calculation of Salaries and Bonus & Leave Encashment.
5. Checking the Attendance Report on Daily Basis.
Matter Related to Local Purchase at Site:-
1. Checking of purchase demand with bills
2. To ensure that purchase item is according to demand.
3. Verification of the Purchase Items.
4. Checking of purchase orders and rates with previous purchases.
Matter Related to Store & Yarn, Fabric Department:-
1. Checking the Issue of Store on daily Basis.
2. Checking the Fabric Stocks Reports on Daily Basis.
3. Checking the Yarn Stocks Reports on Daily Basis.
4. Total Command on inward Gate Pass and outward Gate pass Procedures.
5. Preparation of Packing Cost and Sizing Cost Reports.
Education
MBA
[Otra]
(Pakistán)
June 2010 a January 2013
More Qasir
Career Goals
to imrpve life satyle
Industries of interest
Industry
Areas of interest
Administration, Finances, Acountancy, Banking
Availability to travel and work outside the city
Yes
Interests and hobbies
book reading,internet,snoker ,