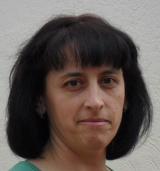 * ROSA MARÍA
DE LA FUENTE ANTOLÍN
TELEOPERADORA in Vacolba Telecomunicaciones
Valladolid Area, Spain
,
Valladolid
,
España
Current:

Vacolba Telecomunicaciones

Past:

TALLERES VALSI

Education:

INGLÉS INTERMEDIO
https://profiles.jobomas.com/rosa.maria.de.la.fuente.antolin
Job Experience
TELEOPERADORA
Vacolba Telecomunicaciones
August 2016 to November 2016
ATENCIÓN TELEFONICA Y VENTA DE PRODUCTOS DE TELEFONIA FIJA Y MÓVIL CON PAQUETES DE TELEVISIÓN .
DELINEANTE
TALLERES VALSI
June 2014 to September 2014
DELINEANTE PROYECTISTA
Junta de Castilla y León
September 2007 to January 2011
Control y cargas de documentos de Planeamiento Urbanístico en la comunidad de Castilla y León para su visualización en internet. Programas PLAU y PLAI Control y carga de Ortofotos para la representación de la comunidad de Castilla y León. Control y revisión del CORINE. Búsqueda de información geográfica en archivo para entrega de las peticiones en la ?Casa del Mapa? en Valladolid. Análisis fotointerpretativo de fotogramas y ortofotos históricas. Utilización de programas como ADOBE PROFESIONAL y ARCGIS.
DELINEANTE PROYECTISTA
ESTUDIO DE ARQUITECTURA
November 1991 to September 2007
Delineación de todo tipo de proyectos en obra civil y planeamiento urbanístico (AUTOCAD). Apoyo en mediciones y presupuesto (PRESTO, MYDAS, etc.), documentación (WORD, EXCEL, etc.), cálculo de estructuras (PORTO, CIMEN, etc.), cálculo de instalaciones de calefacción, etc. Elaboración de todo tipo de estudios (más de 100 proyectos)para edificación.
DELINEANTE
BLASER INFORMÁTICA
May 1991 to August 1991
Empresa dedicada a la cartografía de Catastro. Trabajo de fotointerpretación y retintado de ortofotos para posterior digitalización.
DELINEANTE
INDUSTRIAS BC
June 1990 to June 1990
Apoyo en la realización de presupuestos y ayuda en las tareas de oficina.
Education
INGLÉS INTERMEDIO
INGLÉS (CVE)
2013 to 2013
TECNICO DE MECANIZADO POR CORTE Y CONFORMADO
ESCUELA DE MANDOS INTERMEDIOS "CRISTO REY"
2013 to 2014
Diseño con Solidworks
SOLIDWORKS (CVE)
2012 to 2012
Google Adwords. Su empresa en internet
GOOGLE ADWORDS (CVE)
2012 to 2012
Creación de blogs corporativos (wordpress y blogger)
BLOGS CORPORATIVOS (CVE)
2012 to 2012
17 curso online ALLPLAN 2013. Nemetschek
ALLPLAN 2013
2012 to 2012
SketchUpPro
3D SketchUpPro
2012 to 2012
DISEÑO DE SUPERFICIES CON CATIA V5
UNIVERSIDAD DE VALLADOLID
2011 to 2011
Programador de máquinas herramientas
CURSO CNC (Catia V5, Proengineer)
2011 to 2011
PREVENCIÓN DE RIESGOS LABORALES (Nivel básico)
ESCUELA DE ADMINISTRACIÓN PÚBLICA DE CASTILLA Y LEÓN
2008 to 2008
HOJA DE CÁLCULO EXCEL
ESCUELA DE ADMINISTRACIÓN PÚBLICA DE CASTILLA Y LEÓN
2008 to 2008
AUTOCAD 3D
COLEGIO DE APAREJADORES DE VALLADOLID
1993 to 1993
DELINEANTE BÁSICO DE ARQUITECTURA
INSTITUTO NACIONAL DE EMPLEO
1991 to 1991
AUTOCAD
CAMARA DE CONTRATISTAS DE CASTILLA Y LEÓN
1991 to 1991
DISEÑO ASISTIDO POR ORDENADOR
INSTITUTO NACIONAL DE EMPLEO
1990 to 1990
DELINEANTE
INSTITUTO POLITÉCNICO DE VALLADOLID
1982 to 1990
TECNICO AUXILIAR DE CONTROL DE OBRAS
Currently studying
CVE- EMPRENDEDORES
Currently studying
Other Skills
Presto
blogs corporativos
Google Adwords
solidworks
Catia
AutoCAD
English
Adobe Acrobat
Microsoft Office
More * ROSA MARÍA
Availability to travel and work outside the city
Yes