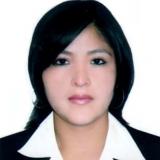 X-iana
De Velásquez
Auxiliar de Control in EMPRESA MULTIPLES S.A. ? CAMPAMENTO MINERO ANTAPACCAY
Current:

EMPRESA MULTIPLES S.A. ? CAMPAMENTO MINERO ANTAPACCAY

Past:

PLANTA DE LACTEOS MARCO CONVENIO ESPINAR - CUSCO

Education:

Especializada en Cajeros y Asesoria Financiera
https://profiles.jobomas.com/roxana.velasquez.mamani
Job Experience
Auxiliar de Control
EMPRESA MULTIPLES S.A. ? CAMPAMENTO MINERO ANTAPACCAY
July 2014 to September 2014
- Atención en Caja (Apertura y cierre diario)
- Recepción y control al personal de la mina.
- Manejo de Boletas y facturas.

Asistente de Logistica
PLANTA DE LACTEOS MARCO CONVENIO ESPINAR - CUSCO
September 2013 to May 2014
- Informe sobre los Flujos Financieros.
- Emitir Facturas, Boletas y Guías de Remisión
- Llevar un informe de las ventas diarias y mensuales.
- Realizar ventas vía Internet y telefonía.
- Captar nuevos clientes, bajo diversas promociones.
- Realizar Cotizaciones para la reducción de costes en la compra de materiales e insumos.
- Fidelizar al cliente.

Asistente Administrativa
FÁBRICA DE TEJIDOS CHECTUYOC S. A. (Empresa textil) ? CUSCO
January 2012 to January 2013
- Recepción y entrega de materiales e insumos químicos.
- Supervisión y control de los procesos de producción.
- Elaboración de informe estadístico mensual de las áreas de producción.
- Control de almacén y ventas de productos terminados.
- Pagos de Detracciones e Impuestos.
- Pagos mediante transferencias bancarias a proveedores.

Secretaria/Recepcionista
INVERSIONES PERÚ VIDA (Transportes Turísticos) - CUSCO
January 2011 to December 2011
- Redactar documentos.
- Atención y Recepción a los clientes.
- Asesoría en venta de los paquetes de tours turísticos.
- Informe mensual de los servicios brindados.
- Elaboración y pago de planilla de remuneraciones.

Education
Especializada en Cajeros y Asesoria Financiera
INSTITUTO DE FORMACION BANCARIA - AREQUIPA
(Perú)
May 2013 to Currently studying
Finanzas en Negocios Globales
TELESUP - DISTANCIA
(Perú)
June 2012 to Currently studying
Técnico en Administración Industrial
SENATI - AREQUIPA
(Perú)
February 2008 to December 2010
Computing
MICROSOFT OFFICE
Advanced
Other Skills
PREVENCIÓN DE LAVADOS DE ACTIVOS Y FINANCIAMIENTO DEL TERRORISMO
CERTIFICADO EN ?MARKETING EN VENTAS Y PROYECTOS PRODUCTIVOS?
CERTIFICADO EN ?ANÁLISIS, EVALUACIÓN DE CRÉDITOS Y ATENCIÓN AL CLIENTE EN MICROFINANZAS?
More X-iana
Career Goals
Poder laborar en una empresa Industrial y tener también la experiencia de trabajar en una Financiera.
Industries of interest
Food and Beverage
Areas of interest
Administration, Finances, Acountancy, Banking
Availability to travel and work outside the city
Yes
Interests and hobbies
Me caracterizo por ser una persona responsable, aplicada, proactiva y extrovertida; con capacidad de asumir nuevos retos, comprometiéndome con cada tarea que me encomiendan. Poseo una sólida formación ética y moral.
Me gusta mucho la lectura, bailar y escuchar musica.