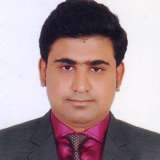 S.A.M. Fakrul
Alam
Quality Control Officer in Ziska Pharmaceuticals Limited
Current:

Ziska Pharmaceuticals Limited

Education:

Masters of Business Administration
https://profiles.jobomas.com/rubelpau
Job Experience
Quality Control Officer
Ziska Pharmaceuticals Limited
January 2014 to November 2016
1. Sampling of packaging components, raw materials and finished products before analysis and issuing the release, reject & quarantined advice.
2. To calibrate the general QC instruments including UV-Visible spectrophotometer, Karl Fischer Titrator, Electronic balance, pH meter after the certain frequency as per written and approved instructions / SOP (Standard operating procedure).
3. To handle / operate the sophisticated QC instrument- Uv Spectroscopy (Manual & Software), IR spectroscopy, Karl Fischer Titrator, TOC (Total organic Carbon), Refractive Index (RI), Optical Photometer, Disintegration Apparatus, TLC (Thin Layer Chromatography),Water Bath, Dissolution apparatus, Melting Point apparatus, Muffle Furnace, Polari meter, Centrifuge Apparatus.
4. To carry out the tests of raw materials, SP sample materials, packaging materials and finished products as per written and approved instructions (SOP)..
5. To review the analytical method validation.
6. To prepare the reagent solution (Test& Volumetric solutions) and to check the standardization factor of the standard (Volumetric) solutions.

Education
Masters of Business Administration
Notre Dame University Bangladesh
August 2015 to September 2017
MS in Pharmaceutical Chemistry
Lovely Professional University, Punjab, India
August 2011 to July 2013
B.Pharm
Primeasia University
December 2007 to April 2011
H.S.C
Ideal College
June 2005 to July 2006
S.S.C
Motijheel Model High School & College
January 2003 to April 2004
IT skills
Ms Word, Power Point, Excel, Software & Hardware, Photoshop
Advanced
Other Skills
Team Work, Leadership, Analyst, Researcher, Administrative, Management Development
More S.A.M. Fakrul
Career Goals
To achieve high degree of professional excellence by putting continuous effort and exerting knowledge and skills, this will eventually contribute to the achievement of personal and organizational goals.
Availability to travel and work outside the city
Yes