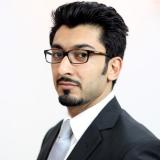 Saad
Amin
Basel Risk Analyst (Regulatory Reporting) - Capital Management in Faysal Bank
Pakistan
,
Abu Dhabi
,
Emiratos Árabes Unidos
Current:

Faysal Bank

Past:

Students' Association UNMC

Education:

BA (Hons)
https://profiles.jobomas.com/saad.amin
Job Experience
Basel Risk Analyst (Regulatory Reporting) - Capital Management
Faysal Bank
October 2012 to Actually working here
Working for the Capital Management Unit of Enterprise Risk Management. Major responsibilities: - Submission of Regulatory Capital Adequacy Report to Central Bank in accordance with Pillar I requirements of Basel Standards. - Assist in Internal Capital Adequacy Assessment Process (ICAAP) in accordance to Pillar II requirements of Regulatory Basel standards. - Assist the management to take informed decision regarding effective utilization of capital through various MIS reports and presentations. - Assisted the management in regulatory and internal audit. - Maintain Credit ratings database from recognized External Credit Assessment Institutions. - In the absence of end to end Risk Management system, designed integrated and automated Excel model to ensure accurate and timely regulatory reporting. - Support Analytics team in Regulatory Credit Risk Stress Testing. - Assisted in successful implementation of Basel III Regulation.
Internal Affairs and Democracy Officer
Students' Association UNMC
June 2011 to June 2012
Student Association is the main functioning body of students that work for the welfare of Students in University of Nottingham Malaysia Campus (UNMC). Students Association handles all the Clubs and Societies in the university and is also deals with all problems of the students. It is also a means of communication with the University Administration. As Internal Affair and Democracy Officer, I work to ensure the whole system was working properly. I had to be the communication medium for all executives. I had to update the president of happenings in the office, note down minutes of every meeting, call for meetings as well as arrange meetings with the University Administration. Yearly elections also come under my portfolio. Being a part of the Executive Committee is one of the greatest achievements.
Business Planning Intern
Engro Polymer and Chemical Limited
June 2011 to July 2011
6-week project based internship program based on market of raw plastic material, Polyethylene and Polypropylene. Project was based on collection of data, analyzing of data and submitting a report on "Market Feasibility of Polyethylene and Polypropylene". A presentation based on analysis in the report was also given to the supervisor. This Internship opportunity with experienced staff of EPCL enabled me to interact with different manufacturers and traders of Plastic Industry and exposed me to the planning and forecasting areas of the business. Research on the two products, Polyethylene and Polypropylene, gave an insight on the plastic industry of Pakistan as well as the other exporting countries especially India and Middle East Countries. It helped me to polish my skills of analyzing data, collection of data and work ethics.
Intern
The Citizens Foundation
June 2008 to July 2008
Summer internship program that gives the young educated students to transfer their basic knowledge to the under-privileged children of Pakistan. Through the power of quality education it enables moral, spiritual and intellectual enlightenment. Creating opportunities to improve quality of life of the ones that can't afford it. The vision of TCF is to remove barriers of class and privilege and to make the citizens of Pakistan Agents of Positive Change. It believes that access to basic education is the right of each individual and not a privilege. Apart from following the regular curriculum, we focus on the character building of students to equip them with high moral values and confidence.
Education
BA (Hons)
University of Nottingham
2009 to 2012
A Level
Cordoba School for A levels
2007 to 2009
GCE Ordinary Levels
Progressive Public School
2004 to 2007
Languages
Inglés
Bilingual / Native
IT skills
Other Skills
Team Leadership
Analysis
Enterprise Risk Management
Financial Modeling
Financial Risk
Economic Development
Relationship Management
Leadership
Project Planning
Financial Management
Database Management
Valuation
Time Management
Data Analysis
Team Management
Investment Banking
Managerial Finance
Capital Markets
International Economics
Commercial Banking
Market Risk
Trade Finance
Retail Banking
Operational Risk
Islamic Finance
Credit
Internal Audit
Credit Analysis
Business Analysis
Economic Research
Entrepreneurship
MIS
Project Management
Teamwork
Banking
Business Planning
Corporate Finance
Forecasting
Management
Credit Risk
ICAAP
Microsoft Office
Economics
Portfolio Management
Market Research
Finance
Financial Analysis
Basel III
Risk Management
Basel II
More Saad
Availability to travel and work outside the city
No