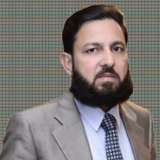 TAHIR
NADEEM
ARO/Admin Officer in SAPS
Islamabad
,
Islamabad Capital Territory
,
Pakistán
Current:

SAPS

Past:

Moevenpick

Education:

B-Tech
https://profiles.jobomas.com/tahir.nadeem.12
Job Experience
ARO/Admin Officer
SAPS
April 2014 to Actually working here
? Responsible for maintaining the safety and security of the ramp at all times
? To ensure all Ramp Personnel are properly assigned and utilized. Requests overtime as needed and maintain maximum use and efficiency of all Employees on duty.
? Monitor customer safety during boarding and deplaning, and assist customers in a friendly and courteous manner
? Observe safe ground-handling procedures and maintenance of ground service equipment, including the performance of equipment checks
? Preparing
Project Manager
Moevenpick
August 2009 to December 2013
Technical assistance and supervision during project
? Oversee the operations of a facilities team such as building maintenance or utility services.
? Oversee acquisition, installation, operation, maintenance, and disposition of building systems, production equipment, furniture and equipment, grounds and exterior elements.
? Manage the maintenance of building structures and permanent interiors.
? Purchasing of Material
? Develop and implement practices that prom
Maintenance controller/Supervisor
Pakistan Air Force
February 1992 to February 2008
?Plan, organize, direct, and manage the maintenance and repairs of aircraft, aircraft components, and aviation support equipment.
?Direct and manage the scheduling of aircraft, aircraft components, and aviation support equipment inspections.
?Ensure all aircraft, aircraft components, and aviation support equipment maintenance data is collected and properly disseminated.
?Direct, monitor requisition, reception, and allocation of materials, tools, aircraft components, and aviation support equipmnt
Education
B-Tech
Indus Institute of Higher Education
(Pakistán)
January 2005 to Currently studying
Diploma of Associate Engineering
SOA PAF Base Korangi Creek
September 1990 to February 1992
Intermediate
PTTS PAF Base Kohat
September 1989 to September 1990
Matric
Govt Elliott High School
March 1984 to March 1989
Languages
English
Bilingual / Native
IT skills
Internet Browsing
Experto
Word ,Excel , PowerPoint ,Internet
Advanced
Other Skills
Logestics
Office correspondence.
General administration
Training Development/Instructor
Maintenance controller
Project Management
Quality assurance
Ground Handling
Ramp Supervision
Mechanical systems
Aviation Maintenance management
Completing Specialized Tasks Timely
Handling of Multiple Tasks
Teamwork
Administration
More TAHIR
Career Goals
?An enthusiastic and resilient , B-Tech in Mechanical Engineering from Indus Institute of Higher Education with extensive experience in the Aviation industry involving positions as an Associate Engineer in Air-frame Technology and also in Mechanical Engineering, equipped with 20+ years fortunate experience of Govt/Semi-Govt/Civil sectors through a versatile spectrum including operational military, 1st line & 2nd line maintenance, facility management, Technical training, Maintenance control,handling Technical & Administrative issues,Central Tools Store Management , Office Management , Aerospace ground support equipment (GSE) fixed base and front operational base levels,Comprehensive Knowledge of Supervision, Planning, Scheduling , Documentation and produces admirable Results through effective utilization of Manpower. Thereby experienced enough to add value to any operations/services/production based organization.?
Availability to travel and work outside the city
Yes