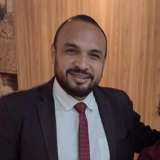 Uarles
Alves
CCO/Rádio Operador in DEPASA Departamento de Águas e Saneamento
Current:
DEPASA Departamento de Águas e Saneamento
Past:
Makro Atacadista S/A
Education:
Processos Gerenciais (cursando)
Job Experience
CCO/Rádio Operador
DEPASA Departamento de Águas e Saneamento
January 2020 to January 2022
Abastecer todos os reservatórios de rio branco. Elaborar relatórios para a diretoria operacional e fazer cumprir as determinações feitas pela diretoria do saneamento da capital.

Chefe de Depósito
Makro Atacadista S/A
May 2017 to February 2020
Responsável pelas atividades operacionais rotineiras do depósito, pela organização dos processos, e pela verificação da limpeza e ordem, bem como pela manutenção de dados sobre os materiais que lhe foram confiados como ?fiel depositário?.

Coordenador de Prevenção de Perdas
Makro Atacadista S/A
March 2014 to May 2017
Coordenar a segurança e prevenção de perdas, planejar gestão de risco para controle de quebras e prevenção de furtos e roubos, elaborar normas e políticas referentes às operações e desenvolver estratégias para aplicar ações corretivas.

Fiscal de Loja
Makro Atcadista S/A
September 2013 to March 2014
Atua na prevenção de perdas e danos no interior da loja, fiscaliza a entrada e a saída de funcionários e prestar atendimento ao cliente.

3° Sargento do Exercito
Exercito Brasileiro
February 2007 to March 2013
Responsável por comandar um grupo de combate constituído por 10 homens e na ausência do sargento adjunto comandar um pelotão constituído por 30 homens.

Education
Processos Gerenciais (cursando)
UNIFACS Universidade Salvador - Campus Costa Sul Modalidade
(Brasil)
January 2022 to Currently studying
Other Skills
Rádio Operador
Prevenção de Perdas
Logística
Segurança
More Uarles
Career Goals
Industries of interest
Areas of interest
Availability to travel and work outside the city
Yes
Interests and hobbies